Train Wall Stickers and Decals
Colorful train wall stickers are a quick and easy way to add another dimension to your creative wall murals. Washable vinyl decals make the creation of a decorative wall arrangement in a kid's room with a train theme not only a stylish choice, but a practical one.


These are inexpensive decorations that will add lots of color and excitement to a preschool classroom or a child's bedroom for a very affordable price. Another nice thing about decorating with stickers is that you can have them up in a flash and when you get tired of the decorations, they are easily removable.


The decorative possibilities are endless since there are so many ways to mix and mingle stickers, wallpaper cutouts and decals with posters and wall shelves filled with collectible toy trains in a train nursery theme.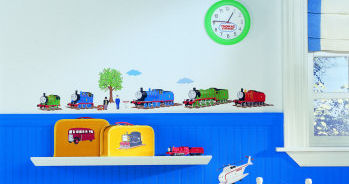 There are many
colorful collections of locomotive engines and rail cars for your decorating project.

We have some excellent decorative train theme wall treatment ideas to share with you that require very little in the way of artistic ability. You can get as creative as you like using stencils or projectors to help you paint some background images like rolling hills and railroad tracks for your choo choo to chug along.

Personalized Train Wall Decals for the Baby Nursery Room
Before you start your decorating project, you should make the decision as to which style of train wall decorations might work best for you. There are vintage pictures for older children and the Thomas the Train characters can be adapted and used as decorations in the baby's nursery with great success.
Thomas the Train Stickers
For the baby's nursery train wall stickers are a very popular choice. In kids' bedrooms you are free to use whatever kind of locomotive train stickers and decals you want so long as they blend with the bedding and color schemes of the room. However, if you are decorating a public area with train wall decorations where the primary audience will be adults, you probably wouldn't want to decorate with Thomas the Train wallpaper cutouts.
Please browse the rest of Unique Baby Gear Ideas to find more train themed decorating tips.