Sprout Reusable Diaper Review
by Jan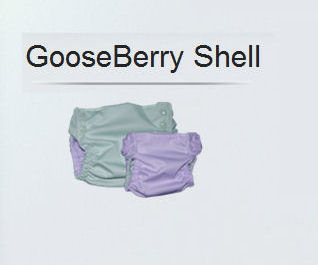 Sprout Reusable Baby Diapering System
Welcome to Unique Baby Gear Ideas' Sprout Reusable Diaper review and giveaway. When I read about The Sprout Change diaper system and how it was created by a mom who needed a better diapering option for her own baby; I was intrigued and wanted to see it in person.

What is the Sprout Diapering System
It's a reusable, reversible, one-size hybrid diaper shell with removable inserts (patent pending) that is different from any other diaper around.

Save Money!
It is clearly stated on the packaging that by using Sprout's diapering system, it's possible to save $2,000 over the cost of using disposable diapers.


The Reversible Shell
The shell that I received is a sweet lavender color on one side and a fresh aqua color on the other. The fabric is very soft and silky smooth which is important especially around the leg openings. I do not like baby diapers or clothes that leave red marks! The price of the reversible diaper covers is $16.95 and they can be used with any prefolds or inserts that you already have on hand.


On each side of the shell there are little pockets that give you access to the elastic when you need to make adjustments using the nifty "notching" system. I haven't had to make any adjustments (I guess I got lucky?), as of yet but it seems that the process would be pretty straight forward and easy to manage when the time comes.


How to Get a Trim Custom Fit
It's very easy to get a customized fit for any baby weighing as little as 5 pounds right on up to an amazing 40 pounds! To put it in simple terms; this could very well be the only diaper that you ever have to buy.

As mentioned earlier, the size the diaper came in worked for me with having to make adjustments but I felt that for the sake of telling the rest of you how to adjust the waist of the diaper, I needed to take a look and see how it works. I'm happy to report that if you've ever adjusted the elastic waist on a pair of kids' pants using the "button system" you won't have any problems at all.

All you have to do is:

Look to the side of the double snaps on the inside of the diaper to find the single snap closure of the pocket.


Unsnap the button and poke your finger inside to find the end of the elastic looped over a button and pull it loose. One tip I will share is DON'T LET GO OF IT and DON'T PULL IT TOO TIGHT! The ideal fit is snug enough to hold the insert in place but not so snug as to leave elastic marks on your baby's tummy and legs.


Use the notches in the elastic to change the tightness of the waist and then repeat the procedure for the leg opening and snap the pocket closed.


Repeat only the leg adjustment on the other side of the diaper and snap the pocket closed.
The Inserts
The shells of the Sprout Change one-size reusable diapering system are trim fitting and adorable but we all know it's the absorbent qualities of a diaper that matters. I was surprised to find that the inserts do not attach to the shells; you just put them in place and expect them to stay there. To be honest, I wasn't sure they would behave and stay in place but so far, so good. This is a nice step-saver in the changing process; no snapping or tucking into place is necessary. You just open up the shell, fold it to the size that you need and position the inserts.
The Willow Store sent me two organic Super Saver Inserts to test for the Sprout Reusable Diaper Review and giveaway. The organic inserts are all natural organic cotton fleece layered over organic hemp. In my experience they absorb moisture quickly and well PLUS there is the added benefit of having only natural fibers come in contact with your baby's skin. My baby has eczema plus allergies and she is often broken so the idea of no chemicals really appeals to me.
If you like a trim fit get the organic cotton/hemp inserts. The organic hemp fabric has natural antibacterial properties and no chemicals, dyes or dioxins. They are very absorbent and have performed well for me as an overnight diaper! The cost of the Organic Hemp Pocket Diaper Inserts Ranges from 2.45 for the extra small double-er to $5.45 for the medium/large size.
The Super Saver inserts are also available as "Stay Dry". This insert is made of micro-fleece layered over micro fiber which I did not test but if Catherine says they are good, I trust her opinion.
Speaking of Catherine and The Willow Store
As I mentioned, Catherine came up with the Sprout reusable diapering system after being unable to find a diaper that she liked. She is also the founder of The Willow Store that carries many reusable items that will be of interest to new mothers including baby wipes, and nursing pads as well as diapers and natural laundry products. The store's mission is to bring eco-friendly products to families who are interested in taking steps towards living green and a sustainable future.
The Bottom Line
The one size cloth diapering system is as functional as one might expect of a diaper that was "Mom-Made" and I like the fit as much as the absorbent organic inserts.
I hope that you have found the Sprout reusable diapering system review to be helpful and now for the
Sprout Cloth Diaper System GIVEAWAY
!
Win It!
Two lucky moms who enter
Unique Baby Gear Ideas
's contest will win their own Sprout Change Diaper System Starter kit!
Mandatory Sprout Free Cloth Diaper Starter Kit Entry
(This step must be completed before any extra entries to the Sprout Diaper Giveaway will be counted.)
Drop by The Willow Store and browse Sprout Diaper Covers and leave a comment indicating which is your favorite color combination.
AND
"like" Unique Baby Nursery Decorating Ideas on FB and The Willow Store on FB. Post on BOTH WALLS and include your username in your comment.
BONUS ENTRIES - LEAVE URLS AND COMMENTS FOR EACH ENTRY
1. Visit my Baby Gear Review channel on Youtube and subscribe OR leave a comment on your favorite and return to tell us for
10 bonus entries
2. Follow msbaby on Twitter and tweet: Check out the FREE Sprout Cloth Diaper giveaway hosted by @msbaby – Enter to win and shorten url if necessary and leave a comment. Tweet the baby carrier giveaway DAILY and leave a comment each time.
3. Enter another Unique Baby Gear Ideas contest for a chance to win some FREE Baby Stuff! (1 entry for each contest you enter)
4.
FOR 5 EXTRA ENTRIES
– Blog about the the Sprout Cloth Diaper Review and giveaway and provide a link to your post. (You should post FIVE separate comments for this!)
5.
For 10 BONUS ENTRIES
Browse our gallery of pictures and
vote for your favorite in the comments section
then tell me where I can find your vote for 10 additional entries and be sure to tell the moms how much you admire the designs that they have shared with Unique Baby Gear Ideas!
6. Add Unique Baby Gear's cute little button to your blog or website's sidebar (if it's already there, let me know (it won't count if it's on a page where nobody will see it) and post the link to your blog in your comment (2 separate entries) using THIS CODE:
https://www.unique-baby-gear-ideas.com/images/ubgibutton.jpg
7. Post a link to our blog to your blogroll (using my URL), with a link back!
(10 entries)
8. Add our blog to your blogroll (using my URL), with a link back to me!
(10 entries)
9. Become a follower of our blog in GFC (5 bonus entries)
The Sprout Diapering Starter Kit giveaway contest will end on August 3 and is open to residents of the United States only (void where prohibited by law).
The two winners of the diapering systems will be contacted via email and will have 48 hours to confirm before a new winner is chosen.
I would like to say how much I appreciate The Willow Store's sponsorship and want to encourage everyone to consider buying their products!
There is No Purchase Necessary for entry and The Willow Store sent me one diaper starter kit to review and no additional compensation. My opinions on the diaper cover and inserts are my own and were not influenced by the company.