Serene Gender Neutral Nursery Design
by Kerri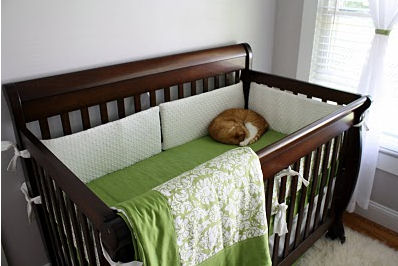 Picture of the Baby's Bed w the Lime Green and White Damask Baby Crib Bedding
My husband and I chose a gender neutral nursery design because we chose not to learn the sex of the baby; we love surprises! Call us old-fashioned but we just want to enjoy my pregnancy and will be happy whether we have a baby boy or girl.



Plus, our decision to go "unisex" with the nursery design will save money in the long run.



One of the first steps in embarking upon our journey, was to paint the walls a soft grey color that literally should go with any accent color we add down the road.
Go here to see more
The paint color that we chose is called "Sherwin Williams Functional Gray" which is a lovely contrast to the green and white damask baby bedding set that we bought from Etsy seller Fingers and Toes.
Nursery Window Treatments
I used ribbon that I found at Joann Fabric that closely matched the fabric of the green and white damask baby bedding perfectly to use as tiebacks for the sheer curtain panels that I bought at Meijer.
THE BABY NURSERY THEME
My hopes are that I hit the target on choosing decor will suit either a baby boy or girl.
The artwork was the inspiration for the owl and bird nursery theme. The tree wall decal that you see in the pictures (from Etsy seller Janey Mac Press) caught my eye because decorating with birds is so hot right now.
Gender Neutral Nursery designs for those having their first (or their fifth) child.
SHOPPING TIPS
Once I had an idea of what I wanted for the baby's nursery theme, I knew which nursery furniture and decor I wanted to purchase. From that point on, I kept a watch on the websites and stores for deals on the items that I needed.
The baby's crib is Baby Mod by Million Dollar Baby ordered from walmart. The dresser and night stand are Canopy, the nursery glider and ottoman are Storkcraft brand and all came from Walmart.
As luck would have it, almost everything I bought for the baby's room was on sale. It's a little difficult to get discounts and deals on custom baby bedding orders and stuff you want from Etsy stores, but you can definitely find sales, coupon codes and the like for just about everything else.
PERSONAL TOUCHES for our BABY'S SERENE GENDER NEUTRAL NURSERY DESIGN
I have wooden letters from Hobby Lobby that I plan to hang above the crib to spell out the baby's name after the baby is born. I also bought some artwork, Alpha Birdies and Counting Birdies Artwork (from etsy seller Blue Finch Studios) and art from Babies R Us that will work for either a baby boy or girl nursery.
SHOPPING RESOURCES:
Mirror: Hobby Lobby
White Flokati Nursery Rug: Overstock.com
Floating Wall Shelves: homedepot.com
Ceiling Fan: Home Depot
If you have any questions about any of the items that I used in decorating the baby's nursery, just let me know!
From the webmaster:
Kerri, you definitely accomplished your goal of creating a serene nursery for your child. I found looking at your pictures to be very calming and I can only imagine how peaceful the space must be in person.
Thanks for sharing your peaceful nursery pictures and your thrifty shopping tips with
Unique Baby Gear Ideas
' visitors. Your tips and product resources are an excellent example of the best way to shop for and create a special room for a baby and that is exactly what so many moms are looking for.