Safari Nursery
by Abbey
(Bloomsburg, Pa, United States)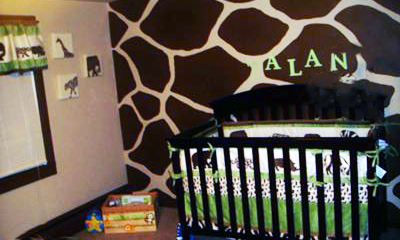 Baby's Safari Theme Nursery with brown and tan, giraffe print wall painting technique.
We didn't get into painting the walls of the safari nursery theme until we bought the baby bedding and that is what inspired the giraffe print painting project.

Q
Could you tell us more about the crib set that was the inspiration for your safari themed nursery? What are its colors, pattern, etc.?




A
The bedding was purchased from Amazon and the fabric includes shades of green, brown, white and tan.



Q
Did you also order the nursery's furnishings online at Amazon?
A
All of the furniture is Carters brand and was purchased at Babies R Us.
Go here to see more
stencils and decorations that can be used to design a safari themed nursery for your newborn.
Q
Did the wall decorations and window treatments come with the crib set or did you buy and/or make them separately.
A
The nursery curtains and the pictures with the jungle animals were bought with the bedding as well as the matching diaper stacker hanging on the side of the changing table. There were more items that came with the bedding set as accessories but we chose to buy only a few and add decorative pieces to personalize the room. For example, we bought the wooden letters that spell out the babies name from Kmart. They came unfinished so we bought mint colored paint and painted them green. The tree wall decal was bought from amazon.com.
The handmade crate on the floor by the baby's crib that you see in the pictures was a special gift given to me at my baby shower. The diaper Genie (purchased at Babies R Us) and the diaper cake with the lion on top were also baby shower gift. The giraffe sitting next to the diaper cake came from a little shop in Rehoboth Beach, Deleware.
Q
Speaking of giraffes, the wall in your baby's room is so cool! Can you tell us more about the
giraffe print nursery wall painting technique
that you chose? Is the giraffe pattern stenciled or did you paint it freehanded?
A
I love animal print so I knew that I wanted to do something with bold with animal print in the baby's room. I hand painted the giraffe print onto two of the nursery walls. We hooked a projector up to a computer, chose what animal print we wanted and projected the outline of the pattern onto the wall. We then traced and painted the giraffe print using very realistic paint colors.
From the webmaster:
Thanks so much for sharing your safari nursery ideas with
Unique Baby Gear Ideas
, Abbey.