Rustic Chic Baby Nursery
by Melissa
(Bay Ridge, Brooklyn NY USA)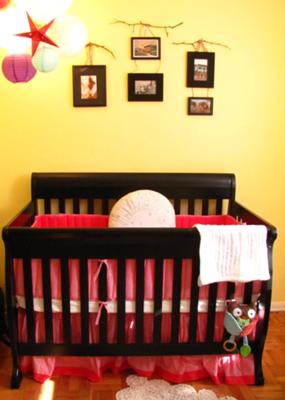 Gender neutral Rustic Chic and Cheeky Nursery Decor. The tree branches give the wall arrangement of photos a distinctly rustic but sophisticated appearance.
The inspiration for the color and style of our rustic chic baby nursery was the Rachel Ashwell, Shabby Chic, blue rose curtains that I have been saving in my storage bin since way back in 2002!


When I bought the curtain panels I thought they would make a great gender neutral addition to the nursery with a combination baby blue and floral pattern.



See more neutral baby nursery pictures in various color combinations in our photo gallery.
The shabby chic curtains I've had for many years were taken out of storage and used as the window treatments. Since I had to decorate the baby's nursery as inexpensively as possible.
I recently quit my job as a visual merchandiser and I'm saving every penny for baby's arrival (5 weeks to go)!
I recycled the extra curtain panels to make some matching crib sheets and then added the Red Gingham crib skirt and bumper by Tadpoles for contrast and added color/pattern. The cost was very inexpensive for both pieces and making my own fitted crib sheet really kept the cost down. I spent less than $90.00 total for the baby bedding.
The nursery dresser and table on top are old pieces that were given to me by a friend's grandmother many years ago.
I painted the vintage pieces in black and white and changed the drawer pulls to create an antiqued paint finish. I not only saved money using the recycled furniture but it had the exact look that was needed.
With that project behind me, the search for a nice rocking chair that didn't look like your typical glider was next. Sadly, most of the ones I adored cost upwards of $600. That price was completely unaffordable so I searched and searched until I found this Dorel brand rocker at Walmart.
Total cost for the rocker was only $300 including shipping! It was easy to assemble, looks great and there is even a choice of slipcover color and matching ottoman. Winding up my nursery furniture purchases was the Kalani crib by Davinci that I found at Target in Ebony. Perfect!
RUSTIC SHABBY LIGHTING
I wanted lighting that would be functional not only as a source of light for the room but that would also serve as a mobile to entertain the baby.
For this purchase I hit up the Pearl River Market on Canal St in NYC to shop for some colorful paper lanterns. Their assortment is vast and inexpensive allowing me to choose various sizes and colors for added effect at a very inexpensive price. Mixing shades of blue and red made the inital base color of yellow and white really pop.
Rustic Shabby Nursery Wall Decorations
I used tree branches I collected from my parents back yard in NJ to accent the photos I framed and hung on the wall. I used photos I had taken in Asia, Europe and a photo of mom and dad so baby would know we were always watching!
The embroidery hoops were made with vintage fabric I found at a tiny fabric store here in Bay Ridge, Brooklyn.
I used some of the leftover gingham fabric to reupholster an old chair I found in the basement of my first home.
I ordered the unfinished wooden wall letters from a seller on Etsy. I painted them in two colors then lightly sanded the finish giving them a worn, antiqued effect.
The pretty, neutral nursery rug is from Urban Outfitters. I wanted something that could easily blend into the decor as well as tie all of the decorative elements together.
I was very pleased with the look of the baby's rustic chic nursery and with a little creativity managed to get exactly what I wanted for a very affordable price. It has a "cheeky" atmosphere that I love!
If you have any questions about anything that you see in my
nursery pictures
or about decorating in this style, please don't hesitate to post your questions here on
Unique Baby Gear Ideas
! Take it from me that you will have lots of fun shopping the flea markets and thrift stores looking for vintage finds to use in your decorating project.