Room Tour: Dr Seuss-Inspired Monkey Baby Nursery Theme
by Jan
Today, we will take a tour of a Dr Seuss-inspired monkey baby nursery theme . This little fellow's room includes some amazing newborn photos taken by Twinty Photography with ideas that you will all enjoy.


If you have been paying any attention at all to nursery decorating trends, you are well aware that tree murals (whether painted by a mural artist or applied to the walls using decals) are very, very popular.



The tree in the background of this photo appears to have been painted by hand but there are lots of really cute stickers if you (like me) have no artistic inclination.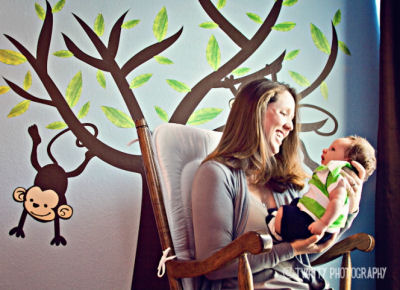 Go here to see more
The cheeky little monkey hanging by its tail from one of the branches is what sets the tone of the
monkey baby nursery theme
. The dark brown and green colors included in the display are a winning color combination with the baby blue wall paint color.
It's obvious that this room does not have an exclusive Dr Seuss theme but the
nursery wall decals
do give a nod to the famous author that wrote so many classic kids' storybooks. The teaching included in the words of this inspirational quote will serve Nolan well throughout his life.
Here's a picture of the adorable little fellow, Nolan, that calls this room "home". The print of the swaddling blanket and the stuffed monkey that is sure to become a favorite toy are the perfect props for this newborn photo shoot.
How cute is the expression on this precious, little face?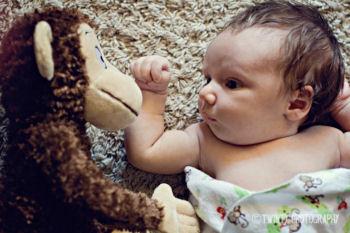 Nolan has already developed an affection for monkeys! He and Mr. Monkey appear to be seeing eye to eye in this picture.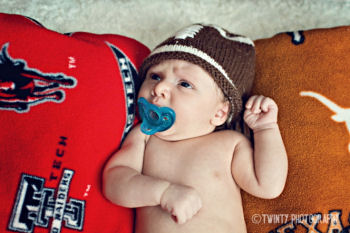 Nolan has already chosen his favorite football team! I feel that Mom and Dad probably helped him with that decision.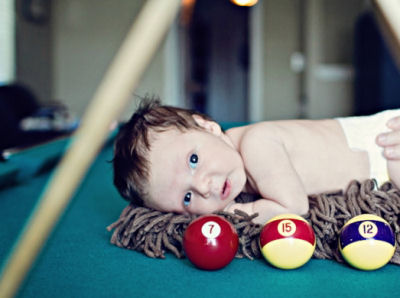 In between games, he'll be spending some time in the billiards room shooting a few games of pool with his friends.
Speaking of friends; our favorite twins, April and Amy of

Twinty Photography
did an amazing job of capturing the atmosphere of this
baby boy's nursery
. Please visit their blog to see more of their photos and to book an appointment for your own sitting.
Let us know what you think of the baby's Dr Seuss inspired nursery in the comments section, and don't forget to subscribe to our feed. We enjoy bringing you the latest baby nursery news on a regular basis.
Please visit
Unique Baby Gear Ideas
again soon to upload pictures of your decorating projects so that other moms can see your baby's room featured on Unique-Baby-Gear-Ideas.com!