Rockin' Baby Shoe Rack
by Jan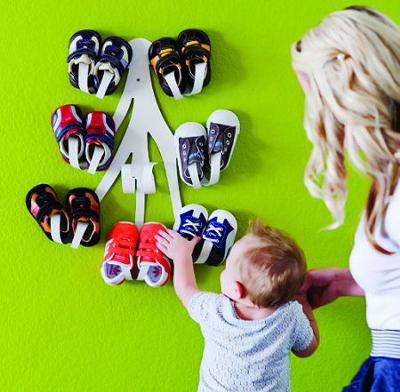 The Boon Baby Shoe Rack looks amazing on the nursery wall! All the more reason not to hold back on buying as many cute booties as mom wants!
This baby shoe rack by (who else but) Boon takes your child's super cute baby booties out of the drawers or nursery closet and puts them on display! I like to think of it as "where footwear meets wall art" since the Boon Curl shoe rack puts those sweet little booties where everyone that visits can enjoy them.


Go Here to See More
On this rack, my girls' Robeez and crocheted booties are every bit as attractive as most of our wall decorations! Using this inexpensive device really has its benefits. It has freed up one drawer in the baby's dresser, it's actually easier to pop the shoes on the handy little hooks which hold them open letting the air circulate. I'm very "mold-phobic" due to one of the girls' extreme allergies but this storage method has to be healthier than their sitting in a dark, closed in place, doesn't it?
An added bonus is with baby's wardrobe of soft, leather shoes in we're reminded to them in rotation to get the most wear out of each pair rather than to grab whatever's convenient over and over again.
I've always been a fan of hidden storage or decorative storage bins for organization of children's clothing, toys and diaper changing necessities but the Boon
baby shoe rack
is one of the best
baby nursery ideas
I've seen this week and since I couldn't find another review, I thought I'd write one!
In fact, I'm thinking that a baby shoe
girl baby shower theme
might be a cute idea! The wording on the invitation could state that the theme of the shower is something like the "Building Our Little Diva's Wardrobe of Shoes" and ask that the guests bring booties and/or shoes as gifts. What do y'all think about that idea?