Robot Themed Nursery
by Cory
(Seattle, WA, USA)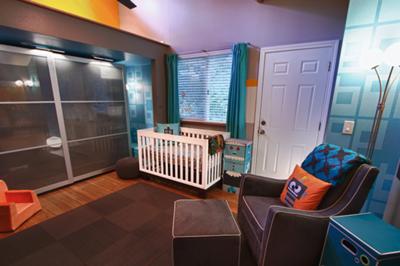 Our baby boy's Jetsons inspired robot themed nursery.
Our baby boy's robot themed nursery decorating project was truly a labor of love. The colorful baby robot nursery holds many space-age decorations including a custom painted mural depicting scenes from places that my husband and I visited during our travels around the world and painted, acrylic storage boxes that we turned into the Jetson's robotic housekeeper, Rosie.



When we started decorating the walls, the first art that we hung was the triptych of famous robots that is hung above the baby's changing table.




We then created accent walls with a modern 'beep, boop, bop' design.
Go here to see more
In the crib there are handmade robot accent pillows that were made by me and my mom. The custom sheets were designed by me; it's the little details in the room such as these that make me smile.
My husband and I are both software engineers and I fell in love with the idea of putting a "geeky" twist on the more traditional
baby nursery themes
, so robots were perfect for our son's first room.
Putting together this unique robot nursery design for our son was so much fun. It was the perfect canvas for my creativity. We love every minute we spend hanging out in there and hope that visitors to
Unique Baby Gear Ideas
enjoy their virtual visit.