Pirate Baby Shower Ideas and Party Decorations to Make Yourself
Whether you are planning a pirate baby shower or searching for a few buccaneer party ideas for a kid's birthday or an adult's costume party, we can help you get started with a few unique pirate theme party suggestions as well as tips on decorations that you can make yourself to save money. We have recommendations for DIY invitations, ways to make as many of your decorations as you can as well as pirate baby gift ideas.



Our goal is to help you decide which pirate theme is best for your guest's age group and find some really cute, inexpensive (read: cheap) pirate party supplies and decorations whenever possible. So, YO HO HO and a bottle of rum (or soda pop if this is a kid's party) let's get started mate! Let's get this pirate ship of a party ready to hoist anchor and set sail.
Have you considered that there are any many different kinds of pirate themes? If children are welcome at the shower or if you are having a children's pirate party, consider a Captain Hook theme. This is an excellent theme for very young children, plus there are lots of pirate party supplies and gifts for little girls in a Tinkerbell theme. For a baby boy, you might want to focus more on Captain Hook and the ticking crocodile. Either way, there are lots of possibilities for cool decorations and gifts.
COOL PIRATE THEME STUFF
BLACKBEARD the PIRATE
If the party is coed, men will respond more positively to more masculine pirate baby shower ideas. Hang lots of Jolly Roger pirate flags and swashbuckling buccaneer swords around so that the dads won't think that you are defacing the image and reputation of his favorite pirate. If you can get the moms to dress up as girl pirates or in pirate wench costumes, that would be even better. I know, the things we are willing to do to keep the men involved know no end, do they? Hopefully some of our visitors will help us out by sharing some pictures and pirate theme baby shower cake ideas.
PIRATE BABY SHOWER THEMES PARTY SUPPLIES and DECORATIONS
Grinning skulls and cross bones like the ones on flags flown on pirate ships are very easy to stencil. If you need really cheap pirate stuff for your party, buy a reusable Jolly Roger stencil and stencil your own pirate baby shower supplies. With these pirate party ideas you can create an exciting and magical atmosphere that even Jack Sparrow would love.
PIRATE PARTY FAVORS and GIFTS
Here are some ideas for pirate baby shower favors for the children in attendance as well as a few inexpensive adult pirate party favor ideas:
Guys and gals alike might like some personalized pirate theme mugs to take home as favors as reminders of an adventurous pirate baby shower or party
Jolly Roger or keychains
Temporary pirate tattoos
Pirate on Board Car Window Signs
Pirate stickers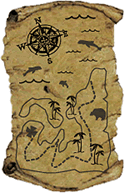 PIRATE PARTY GAMES
What party game could be more appropriate for a pirate theme party or baby shower than a treasure hunt or scavenger hunt? Draw your vintage pirate's treasure maps for the teams on rectangles of crinkled brown paper that you have turned into an antique by lightly burning the edges and printing the instructions or wording using old copperplate script written with a calligraphy pen or a charcoal art stick.

The winners get prizes and the losers walk the plank!
Return to Unique Baby Gear Ideas for more fun pirate themed gifts and decorations for the nursery.