Paper and Pendulum Cradle Plans to Download
Here are some paper and digital pendulum cradle plans for the woodworking enthusiast in your family to order and/or download. Rocking babies is one of the luxuries of being a mom and to dads, making those cradles is something to be very proud of.



While the hand that rocks the cradle, without a doubt in my mind, rules the world. Where would we have been without someone with a knack for carpentry to build that cradle? In today's world, getting a wooden cradle for the nursery is usually one easy transaction away but since most men love their hobbies anyway, how nice would it be to know that your handiwork will not only be used by your own newborn but it might just be rocking your grandchildren (and maybe even your great grandchildren) to sleep long after you're gone!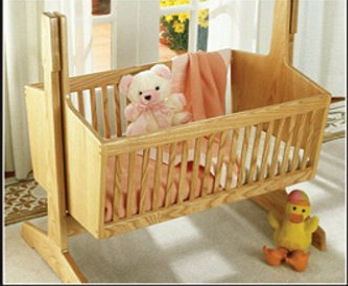 GO HERE TO SEE MORE
The pendulum baby cradle in the above picture was made with ash with finished measurements of 36" High x 24" Wide 35" in length. The wood to make the cradle, the baby toys, cradle mattress or bedding aren't included with the wooden cradle plans but according to reviews, the instructions and diagrams that are included are very clear and complete.
Please visit us again soon to find the latest
pendulum cradle plans
, reviews and
nursery ideas
.
If you would like to suggest some FREE cradle plans or show pictures of your latest woodworking project to our visitors, you can easily do so either by sending me an email (uniquebabygear at bellsouth.net) with the photos attached or by uploading the files with your description of the furniture using the form on this page provided for your convenience.