Paisleys, Stripes and Everything Nice - Chocolate Brown and Blue Paisley Print Fabric Baby Room
by Karen
(SC)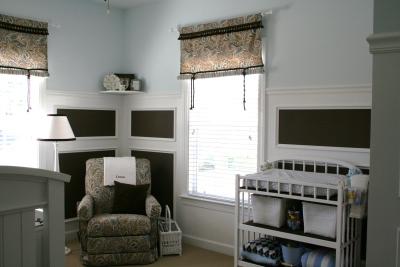 Custom Paisley Baby Nursery Design in Dark Chocolate Brown and Powder Blue with Paisley Window Valances and Wainscoting on the Walls
I hope you like our Paisleys, Stripes and Everything Nice - Chocolate Brown and Blue Paisley Print Fabric Baby Room!

Paisley print fabric and clever wall painting techniques sets everything in this nursery's decor off to full advantage. My husband is a builder and I love to decorate. We came together and decided to make our son's room a place that he can enjoy for years to come.


GO HERE TO SEE MORE
We decided to add wainscoting that covers about half of the nursery walls. Inside each box, we painted chocolate brown for depth. We painted the above walls a soft baby blue color. I selected two fabrics that complemented each other and that didn't scream..."baby boy nursery room!"
I had the crib skirt made out of the striped material and added chocolate piping. The window treatments were made out of the same material as the matching paisley print fabric. I found an old recliner chair at Trader Joe's ($40) and had it recovered in the paisley fabric as well. The changing table came from a Mom-to-Mom sale ($15) and I added some white touch-up paint and covered the shelves with batting and a chocolate brown fabric.
The accessories were easy to complete the room...a blue and brown polka dot piggy bank, a basic white lamp from Babies R Us (I added chocolate trim to the shade for some color), and several gifts including picture frames, stuffed animals and blankets. Our son loves being in his room. It is so peaceful in there that I often go in to relax and read a book when time permits.
The best part is that if we have a girl next, we can always change the blue paint to pink go with a chocolate brown/pink theme! I can even use my same bumper again! And if our son stays in this room, the
baby nursery ideas
that I had for a combination paisley patterns and stripes can grow with him. We had a ball getting his room ready...and now watch him enjoy it everyday.