Owl Themed Nursery Pillow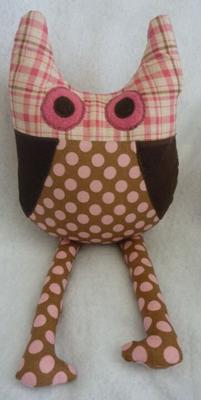 Pink and brown owl themed nursery pillow made with fabrics from pink and brown polka dots and plaid pattern fabrics that complement my baby girl's owl baby bedding set.
I made this Owl Themed Nursery Pillow as a decoration for my baby girl's room. The fabrics that I used to make this cute baby owl pillow match her pink and brown baby bedding and curtains.


SEE MORE HERE
My love for the color combination of pink and brown as well as baby owls led to a pink and brown owl nursery for my daughter.
No owl nursery accessories came with her baby bedding set so it was up to me to make some decorations and once I got started I just started
making more and more owls.
This cute baby owl is made from several different fabrics. I used a combination of solid color pink and chocolate brown fabrics, pink and brown polka dot fabric and pink and brown plaid fabric that complements my daughter's crib set beautifully.
Most owl pillow patterns feature an owl shaped body but I wanted our baby owl to have legs like a rag doll. They add a lot to the personality of my owl themed nursery pillow.
I had so much fun making my own pillows and they are so much cuter than any store bought owl nursery decorations that I found PLUS they are perfectly coordinated with the rest of my baby girl's nursery decor.
If you don't have the time to make your own plush, stuffed baby owl, I have them for sale in my
Etsy shop
in many, many colors. You will find pink and black baby owl pillows, sweet little birdy pillows, butterfly pillows and many more selections that make excellent gifts and accent pieces made with decorating stylish
baby owl nurseries
in mind.
From the webmaster:
Thanks so much for sharing your owl themed nursery pillows with us. I took a peek at your store and it was very easy for me to see how much you love baby owls; you have all shapes, sizes and colors! I'm sure that the moms who visit here searching for baby shower gifts and nursery decorations will be dropping in to see your cute stuff as well.