Our Baby Boy's Peter Pan Nursery
by Jen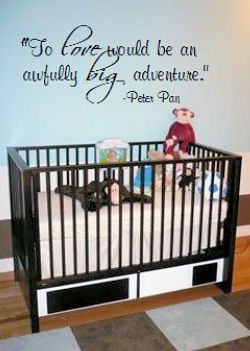 Our Baby Boy's Nursery. We had a decal of our favorite Peter Pan quote custom made to decorate the wall behind the crib.
Our baby boy's Peter Pan nursery started out to be a Tinkerbell fairy nursery after a slightly blurred, "less than clear" ultrasound picture indicated we were expecting a baby girl.




I suppose that we should actually be thankful that we didn't have a lot of money to spend on decorating since if we had we most likely would have gone all out decorating for a baby of a different sex!



The fact that I lost my job recently most likely prevented a total disaster in our baby's room. Our lack of funds kept us from having the nursery completely decorated before getting the surprise of our lives at the time of delivery.
Go here to see more
Thinking that we were decorating a nursery for a baby girl, we bought fabric for a
Tinkerbell baby bedding
set and as many Disney nursery decorations as we could afford throughout the months of my pregnancy.
Needless to say, the crib set was put up for sale in an auction and there was a mad dash to make the nursery more masculine.
It seems that a girl plays Peter Pan in films and onstage more times than not.
Here's a tasty bit of trivia for our DIY decorators who must be fans of Peter Pan.
Why was the part most often played by a female rather than a male? Apparently it had something to do with the laws governing British plays back in 1904 that dictated that children under the age of 14 were prohibited from performing on a stage after 9pm at night.
Thank goodness the Peter Pan quote decal that we had custom made was ordered in a gender neutral shade of black and that we painted the nursery walls a light shade of lavender that was very close to baby blue to match one of the colors that was featured in the fabric that I bought for the Tinkerbell curtains and crib set.
The Peter Pan Baby Bedding Set
After spending so much time (and money) sewing the other crib set that had not sold yet, I started to shop for a cheap set online at the Disney store and Ebay and didn't find so much as a crib sheet; everything was Tinkerbell!
I searched for Peter Pan fabric and didn't like most of the patterns that I found until I found a star print fabric called "Off to Neverland". The material has antique white stars on a pretty blue color background that makes me think of a beautiful night sky.
I liked it so much that I made a patchwork baby quilt by alternating squares of this fabric with solid cream blocks. All that was needed to complete the set were a couple of cream color crib sheets and a crib skirt.
The Tinkerbell and Peter Pan blanket that is draped over the back of the nursery rocking chair was a gift from my baby shower. It's very colorful and when/if we ever have a baby girl, we can continue to use it.
Peter Pan Wall Art
I thought about buying decals to create one of the Peter Pan wall murals that features Peter Pan and Wendy flying. But even though the one I found was really cheap, money is tight and we already had a couple of posters that we had framed that we could work with.
I hope that
Unique Baby Gear Ideas
' visitors won't think our
baby boy nursery pictures
are a little bit too eclectic. Things were brought together very quickly but we believe that the design is very original and not too shabby considering that we started out with Tinkerbell decorations that we purchased in the expectations of having a daughter rather than a son.