Old English Hot Air Balloon Drawing - Baby Nursery Wall Mural
by Tiersa
(PA, USA)
The old English hot air balloon painting on the nursery wall is the highlight of our baby girl's nursery. My husband and I wanted a nursery that was bright and cheery but that was not overdone with too many frills or too much pink and yet had feminine, girly details.



The room initially started out as a study with sage green carpet that we knew eventually we would use as our nursery. So we knew that we would have to work around the existing floor covering when we began our baby room decorating project.
We chose an elegant cream colored Stanley "Built To Grow Crib" that eventually converts to a double bed so that it can be used in our daughter's room for many years beyond infancy. For the crib set, we chose a vintage style, pink and green Laura Ashley baby bedding collection.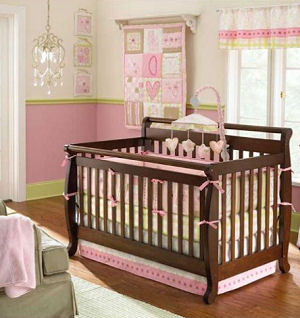 Go Here to See More
We wanted the look of the room to be soft and feminine so there are pastels and NO primary colors anywhere. Our goal was for the atmosphere to be airy and light.
It was a challenge to blend the palette keeping it visually pleasing and interesting with plenty of color to brighten the cream color paint on the nursery walls.
The hot air balloon drawing caught my eye when I saw a hand painted toy chest at a posh, upscale baby boutique. That gave me inspiration and so I ran with the idea and we had the mural painted before we bought any other nursery accessories or the baby crib bedding set.
We liked the look of the
Old English hot air balloon drawing as a nursery wall mural
. It was just what I was looking for and I was very pleased at how it turned out because at first I was afraid that the baby's
hot air balloon nursery theme
would turn out campy and that wasn't the atmosphere I wanted.
We wanted a childlike, cartoon design that was elegant and soft like a picnic on the lawn of a country estate with a view of the landscape and that's exactly what we got.
This particular painting was to serve as the background for an Old English hot air balloon drawing or painting
girl's nursery room theme
, so we played up the pink over the gender neutral colors or yellow and blue even though they were included in all of the preliminary hot air balloon drawings.
The matching changing table was cream also but boasted a green diaper changing cushion on top. In the corner of the room we decided we wanted even more color so we added a blue rocker and a pink rug to the room bringing together all of the colors in the mural.
I am very pleased and to give it a personal touch our decorative painter put Olivia's name on the top flag of the center balloon. Pastel latex craft paints were used in the making of the mural and the rocker is a discontinued model from Babies R Us.
Please make plans to visit
Unique Baby Gear Ideas
again soon to see more modern and vintage hot air balloon nursery ideas and decor.