MamaRoo Baby Seat Review
by Jan
Mom has been looking forward to the Mamaroo baby seat review because she has high hopes this baby seat will bring a little peace to the home. The baby who helped with the review has erratic sleep patterns causing a lot of miles to be logged on the family car.




Mom says: We have exhausted all of our options for soothing baby including parking her bouncy seat on top of the clothes dryer and using the white noise machine. The only thing that has worked lately is to ride her and her sisters in the car until they all fall asleep.



Now to focus on the specs and technical information on the product.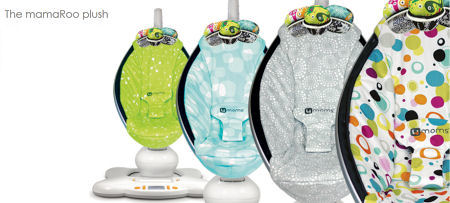 Go here to see more
.
In the following Mamaroo baby bouncer review I will share my experience with the seat from when I took it out of the box to a rundown of the best features of the product.
Ready? Alright, let's get it out of the box and get it ready to use!
PUTTING THE MAMAROO TOGETHER
I timed it and it took me less than 15 minutes to get it out of the box, chuck the packing material and have it ready to use. I put it together by myself without any help since not everybody has a helper. You will need a Phillips Head screwdriver to tighten the one, single screw.
FIRST IMPRESSIONS
I'm not one a mom who dislikes the look of traditional baby gear but if I were, the Mamaroo would be at the top of my baby registry. I just LOVE the way that it looks and I like that it doesn't take up as much room as the other swings we had for our older girls.
I chose to try out the car ride motion for my Mamaroo bouncy seat review FIRST and first night that we tried it, she seemed confused as to why we weren't going out for our usual sight-seeing trip and only sat in the seat a few minutes before we had to pack the kids in the car. The second night she sat in it a few more minutes by the third night, SUCCESS. I had her sisters sit on either side of her (same as in the back seat of the car) while they watched a movie and VOILA! Everybody fell right to sleep!
We tried the other four motions during the day and she seems to like them fine. They do a decent job of keeping her from being fussy but just don't make her sleepy. I'm not complaining since combined with the music, she finds the seat entertaining enough to let me get a few things done with her right there with me.
THE SEAT COVER
The seat cover that I chose is PINK which we love around here but I like that you can buy additional seat fabrics online! I can tell that when the time comes this cover will be easy to take off and in case it gets stained maintaining its resale value!
THE MOBILE
What's special about this baby mobile is that the shapes have scenes from famous paintings created by Van Gogh, Monet and Seurat! I love that the plush, stuffed balls that are positioned so that they are the last thing she sees before she drifts off into her own "Starry Night" are the works of classical artists! And just so babies can see the images very early, one side has the prints in high-contrast black and white! Very educational and cute, indeed but I do wish that it moved so that baby could see both sides.
SOUNDS & MUSIC
The nature sounds are calming but since we have a white noise machine, that's not my favorite feature. What I DO like is that I can plug my mp3 player in and play whatever I want! Other MamaRoo baby seat reviews that I read indicated that the sound quality isn't good but have no complaints since I don't care to play it so that everyone in the room can hear! This baby loves music!
COMFORTABLE?
This is perhaps the most adjustable bouncy seat I've ever used. You can set it for pretty much any angle you like with no problem. Baby can sit straight up and play with the mobile or recline to sleep. Since this baby has slight reflux, I prefer a slightly raised setting.
Here's the short list of pros and cons from the Mamaroo Bouncy Seat Review.
PROS
It has a modern look about it that blends into the existing decor
It doesn't cover a large area like other swings
It's easy to put together
It introduces baby to art at an early age
Baby can listen to the sounds or your MP3 player
The Mamaroo doesn't need batteries which is very eco-friendly!
It has the most adjustable seat EVER!
CONS
I wish it swung back and forth as well as side to side.
Complaints of the Mamaroo
A few years ago there were a few problems that were mentioned that most likely have been addressed. However, I feel that I should mention them for those who may be planning to save money and buy used baby gear.
Complaints that were mentioned regarding the 2010 model that are fixed in the 2011 model include:
A noisy motor and gearbox

Difficult to access harness clips

A less than roomy seat
The final word on this baby seat indicates that the positives FAR outweigh the cons and that new moms find it very useful in keeping their little ones happy.
Please take a moment to share your opinions of the Mamaroo with the moms that visit
Unique Baby Gear Ideas
and remember to always use your own judgment when buying items to use in the care of your newborn.