Make a Snowman Christmas Maternity Shirt
by Ac
When I first saw this Christmas maternity shirt I thought it was cute. Then I saw the smaller face in the BABY BUMP area and frankly..I laughed like a lunatic (perhaps I had just a few too many cups of coffee this morning?).
The snowman face with eyes and mouth made out of chunks of coal and the orange carrot nose is precious and the perfect casual top for the holidays and you have to admit that it's also hilariously FUNNY!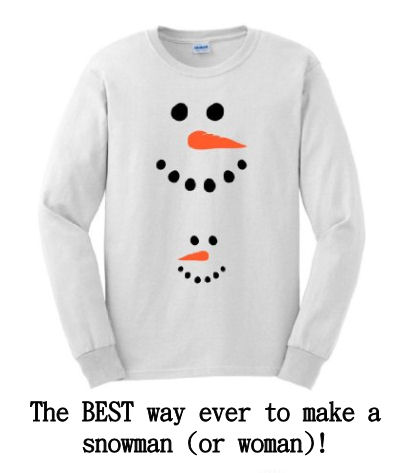 See More Here
It took me just a minute to settle down and when I did, the thought hit me that a mom wearing this top or maternity clothes period..is making a snowman (or snowwoman) in the very best way!
Do you have a favorite
maternity top or baby saying
? Use one of the forms provided by
Unique Baby Gear Ideas
to share it (and a photo if you have one) with us!
Join in and write your own page! It's easy to do. How? Simply click here to return to MATERNITY CLOTHES GIVEAWAY.