Cute Baby Jungle Nursery Accessory and Decor Selections
You have the jungle crib set of your dreams but the jungle nursery accessory collection that came with it, just doesn't tickle your fancy. Parents come to me with this issue when decorating their baby's room in a jungle nursery theme all the time.




Do you know what I tell them? I tell them that it would be a big mistake to use only the stuff that comes with their baby bedding collection to decorate the nursery. Who wants their baby's room to look like an advertisement or a store display?
Visit a party supply store to see if you can find something cute (and cheap) to jazz up your jungle decor. Buy some cardboard jungle animal standups and custom wall decals or the best advice ever is to buy a few giant, stuffed jungle animals that aren't just cute to look at but lots of fun for a little one to play with.
JUNGLE NURSERY WALL DECORATIONS
Paint a jungle mural background and place the jungle decals and stickers strategically for added detail. It will be a jungle dream! Build a fantasy African Safari right on the walls of your baby's room.
Jungle theme wall stickers of colorful tropical birds, toucans, macaws, parrots and other inhabitants of the Brazilian rainforest can perch in the branches of the tree decal on the nursery wall.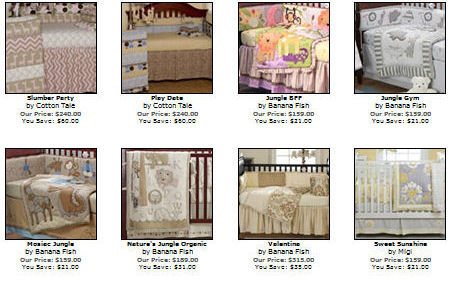 SEE MORE HERE
JUNGLE DRAWER PULLS, HANDLES AND KNOBS
There's no need to completely refinish wooden nursery furniture (unless you need to change the paint color) when you can easily customize your baby's dresser or armoire with drawer pulls, handles and knobs in a jungle theme. If you have plain old nursery furniture with no real personality, simply remove the existing dresser or chest hardware and replace them!
JUNGLE NURSERY RUGS
Lay the foundation for your jungle nursery decor right on the floor! Get nursery area rugs not only to provide a nice soft place for baby to play, but to complete your jungle nursery theme. There are some excellent choices in area rugs and flooring with jungle themes. Some feature various jungle animals such as lions, giraffes and even monkeys borrowed from the jungle mural on the nursery wall.
MORE JUNGLE NURSERY ACCESSORY IDEAS
Decorate your painted nursery walls with framed jungle artwork and framed art prints. Wooden frames carved to look like bamboo would work beautifully.
Stuffed monkeys will be your baby's favorite jungle nursery accessory! Swing a few through the his or her room and see how they make the little one laugh. Jungle nursery accessories that your baby can play with like baby monkeys, giraffes, elephants or even stuffed snakes are educational as well as entertaining.
Another jungle nursery accessory that adds to the comfort of both mother and baby would be a soft area rug in zebra, leopard or tiger print will complement an otherwise difficult to accessorize baby bedding set with ease!