Hunting and Fishing Nursery Theme
by Jennifer
(North Dakota)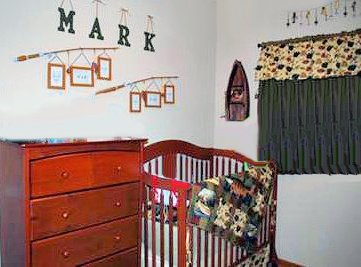 Future Fisherman Nursery Theme - Baby Boy's Hunting and Fishing Nursery Theme Ideas with DIY Wall Decorations and Craft Ideas
I got the idea for my baby boy's fishing nursery theme from my husband's and my own love of nature and the great outdoors. We love to hunt and fish and so do both of our families.


Our firstborn was a baby girl and I decorated her nursery using a pink and brown color scheme.

This time around, the thought of decorating a room that wouldn't be outgrown so quickly really appealed to me.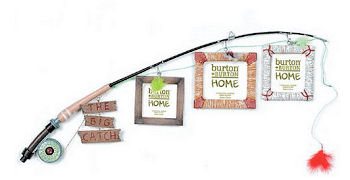 Go Here to See More
Unlike our daughter's room, the fishing nursery theme is very masculine and outdoor-sy.
The fishing baby bedding for his room was handmade by a friend of mine that is an excellent quilter, it is so gorgeous! She even made the crib skirt and bumper pads!
I made the curtains with some of the left over fabric from his bedding. I actually made them the day my son was born!
Some friends of mine threw me a baby shower, and since I still had everything I needed left over from my daughter, I didn't need much so I just asked for fishing decorations to use to decorate the walls and they found some really cute stuff.
The first thing you see when you enter my
baby boy's nursery
is a sign they found that says "bait your own hook, clean your own fish, and tell your own lies".
They bought a really cute canoe shelf and a night light lamp that is a fishing pole with a lamp shade. They also found cute fishing pole picture frames that hold 3 pictures each. A good friend of mine that thinks of my kids just like her own grandkids bought all kinds of cute things from a catalog for his room. She found all these really cute fishing inspired prints that I framed and hung over his changing table along with a cute sign that she found with 2 bears climbing on an outhouse that says "bear bottoms welcome here"
She also found some fake fishing lures on a string that I hung above the window, and some cute fishing ornaments that I hung around the pair of canoe shelves on each side of the nursery window. I hung some fishing net from the ceiling to hold any stuffed animals that will be accumulated. After he was born and we had decided on a name, I bought some big wooden letters from Michael's craft store, painted them and hung them with twisted twine over his fishing pole frames.
I found a sign that says "I may be small but I fish big" that I recently added to the fishing nursery theme's decor. There are several fishing inspired picture frames and knickknacks through out the room, including a fishing bear coin bank. I love how his hunting and fishing nursery theme turned out and I have received so many compliments on how beautiful it is. I hope our baby boy loves it as much as I do as he grows.
From the webmaster:
Thanks from everyone at
Unique Baby Gear Ideas
for sharing your nursery pictures with us, Jennifer! I love the fishing rod picture frame holders and all of the fishing camp themed decorations!
Be sure to remind your friends and family to stop by and vote for your entry!