Hand Painted Dr Seuss Nursery Wall Art
by Micheal
(clayton, DE)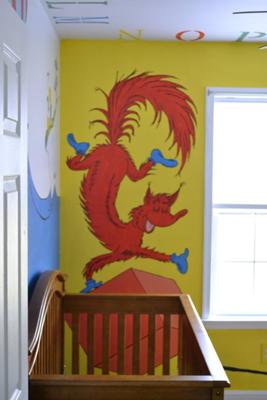 The Fox in Socks portion of the Dr. Seuss nursery wall mural near the baby's crib.
The hand painted Dr Seuss nursery wall art was all sketched and painted by Dad. The wall mural combined with the matching baby bedding that we selection creates such an amazing energy in our baby's room.


Go Here to See More
Each and every inch of the wall has its own individual illustration and color scheme with pictures from our favorite Dr. Seuss books.
One wall has a "Cat in the Hat" theme with the classic black, white and red layout with "Thing One and Thing Two captured inside a butterfly net to the immediate right.
The "Horton Hears a Who" painting features rolling hills of green with the star character resting on a grassy knoll.
If you look to the side of Horton, you will see "Green Eggs and Ham" being served up on a large plate.
The "Fox in Socks" character is doing a handstand at the foot of our baby's crib on a bright yellow background next to the nursery window.
In this picture you can see the ABC's painted in bright colors on the nursery ceiling. All the baby has to do to start an early education is simply look up!
As you can see Dad worked very hard to create the hand painted
Dr Seuss nursery wall art
that makes you feel just like you are in a storybook!
I hope that you have enjoyed seeing Michael's baby Seuss nursery ideas and that
Unique Baby Gear Ideas
has inspired you to jump in and create your own wall murals!
It's true that everyone doesn't have my husband's ability to make their own pencil drawings without a little assistance but if you have even the most basic painting skills with the use of an overhead projector or large wall decals you can have your mural in place in a weekend!
Visit your local library or kid's book store and browse through the selection of Seuss books to see which of the stories you love best. That was the most difficult part for us. As you can see from the diversity of our paintings; we love them all!
One tip that might make the selection process easy is to focus on a theme or a particular layout of of colors that you feel comfortable working with. For example, you might enjoy decorating your baby's nursery using an elephant theme which makes "Horton Hears a Who" a good choice. Or if you don't care for the idea of bright green paint, that would eliminate "Green Eggs and Ham", for sure!
It really doesn't matter which Seuss book you work from, the main thing is that you get the nursery of your dreams and have fun!