Willow's Room - An Example of Creative Girl Nursery Design with LOTS of Homemade DIY Crafts Ideas

Willow's room is an excellent example of a baby girl nursery design that is stunningly stylish yet didn't cost a lot of money to create. Kate and Kuby's spending goal for decor was just $100 and when you see the pictures; you will be amazed that they only went over budget by a meager $10.  

There are so many crafts ideas here that will be of interest to our crafting friends as well as tips on how to use a can of spray paint to re-purpose, up-cycle and color coordinate items that you may already have on hand.
I'm still in awe that this nursery was created for just a little over a hundred dollars and was so excited to share Kate's secrets with you. Surely, there was something magical that she did that saved lots of money that we had never heard of, right?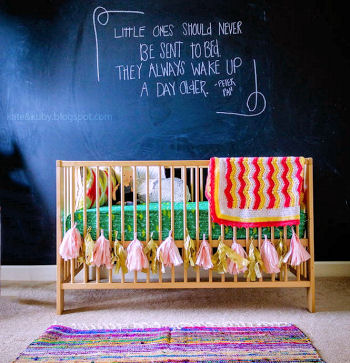 The tassels banner was a baby shower gift. No word on whether there were similar banners with tassels included as part of the party's decorations but that would certainly be a good idea.
How Kate and Kuby Managed Their Baby Girl Nursery Design with Crafts Projects for Just Over $100
As it turned out, she used a combination of tried and true methods rather than just one. She entered and won giveaways, traded for items, used gift cards, shopped on CL for used nursery furniture and made good use of things that sweet friends just gave her because they liked her which I can totally understand. I can feel the positive energy pouring from her blog,
Kate and Kuby
and I will be a regular visitor there! The baby's furniture was not included in their low budget amount but hey, what they accomplished is very impressive!
DIY Crafts Ideas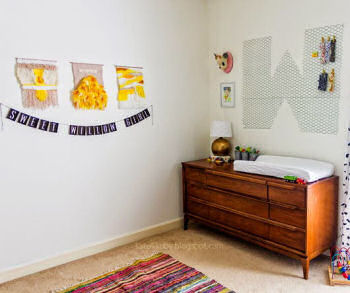 There are so many cute items that Kate made for Willow as you can see in this picture.
The green "W" wall letter is made from chicken wire that Kate had left over from another home crafts project. She spray-painted the letter in a shade of green to match Willow's fitted crib sheet.
This is one of my favorite hair bow holder ideas. It's inexpensive, personalized and very functional!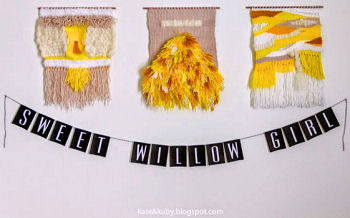 The trio of woven wall hangings reflect the bright yellow color of the baby's crib sheet which was one of the prizes that Kate won in a giveaway contest! The wall hangings add a bright pop of color to the nursery's design.
Willow's name banner was made using a computer to print the letters on white card stock.
I think that this particular piece reflects the gentle nature of Willow's name. I read meanings into artwork especially items that are created by loved ones. The handmade items that moms make for their babies and share here on
Unique Baby Gear Ideas
really touch my heart.
Homemade No Sew Nursery Curtains
The no-sew curtain panels were made from a California king size flat sheet and fabric adhesive tape. The pattern was an original design created with acrylic craft paint mixed with fabric medium. Total cost of the window treatments was just $18!
The watermelon accent pillow was made using the leftover fabric from the curtains and dyed using red food coloring. The antique rocking chair was passed down to Willow from one of Josh's great-grandmothers.
Dear, Deer Wall Decor for a Baby Girl Nursery Design
This sweet girly deer is not homemade but absolutely adorable!
I hope (know!) that all of you found Willow's nursery to be as enchanting as I have. If you have any questions about Kate's creative girl nursery design you can stop by her blog where you will see even more nursery pics and please tell her we sent you her way!