Free Baby Crew Neck Sweater Knitting Pattern with Duck Embroidery
The free baby crew neck sweater knitting pattern with duck embroidery below will be the talk of the baby shower!  Embroidered with a yellow ducky design; this piece will be your pride and joy!

The diagram posted below will make it easy to sew the ducks across the body of the sweater just above the ribbon at the hem.
This would be the perfect baby gift for the guest of honor having a rubber ducky baby shower!
Go here to get the instructions for this
easy sweater plus project pics, sizing chart, yarn requirements, knitting needle sizes, crochet hook sizes and other notions necessary to make this sweater.
Baby Sweater Knitting Pattern with Embroidered Duck Design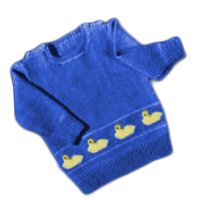 Material Requirements
Yarn(s):
Two (2) ounces 3 ply fingering yarn. 2 ounces Mauve fingering yarn. Small amount of Yellow Fingering Yarn, Orange and Black.
Notions and Tools:
One Stitch Holder. One Medium Crochet Hook. Four (4) Buttons.


Knitting friends of
Unique Baby Gear Ideas
would love to see your photos and hear your opinions on the free baby crew neck sweater knitting pattern. Drop by our feature page to upload pics and share your thoughts and any corrections to the instructions that you feel need to be made.