Disney Nursery Theme Pictures
by Heather
Our daughter, Lilly, has a Disney nursery theme that is defined by a hand painted film strip over the crib. The painting was inspired by our favorite Disney characters, Ariel, the Little Mermaid, Lady and the Tramp, the Lion King and the Jungle Book. Actually, those are just a few of the featured stars in her nursery. Her room actually showcases many all time favorite Disney movie characters.


For example, on the wall to the right of the Lilly's crib, there is a large wall mural that we painted in pink of Cinderella's Castle with our favorite fairy from Peter Pan.



See More Disney themed baby girl nursery pictures or pictures or nurseries for a baby boy with amazing DIY decor projects in our photo gallery.
Tinkerbell, the famous fairy from Peter Pan is painted with wand in hand flying across the blue wall above the turrets.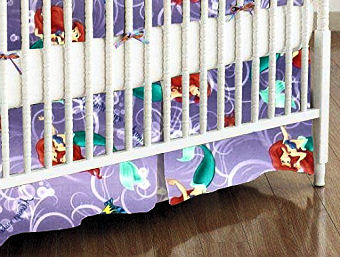 Go here to see more
including artwork.
The painted film strip on the wall above the crib adds a pop of bright color to our baby girl's nursery.
We chose a sleigh style crib and a pink bedding set for Lilly.
We painted the pink princess castle on the wall to reflect the colors in her crib set.
We painted Tinkerbell in the wall mural to the side of the castle's turret for added interest.
And just to be fair, on the other walls there are large pictures of Mickey Mouse, Winnie the Pooh and Goofy.
We painted Mickey nearer to the glider because he is a favorite of my husband's.
As you can see from the pictures that I've shared of our baby's
Disney nursery theme
here on
Unique Baby Gear Ideas
our project was completed, ready and waiting in plenty of time for Lilly's arrival and now she can enjoy her room!