Diaper Shower Ideas
Diaper Baby Shower Games, Wording for Invitations and Decorations

I had so much fun as a guest at a diaper shower and now I want to share ideas for dirty diaper baby shower games, decorations and even some tips on wording for invitations that are cute, practical and <b>FUN!</B>!  
Why a diaper baby shower theme? Well, because there is just no way to know how many baby diapers an infant will need but every mom knows that the number is way up there, somewhere in the thousands!
Another thing that every mom knows is that diapers are not cheap and that there should always be plenty on hand to avoid those late night runs to the discount store.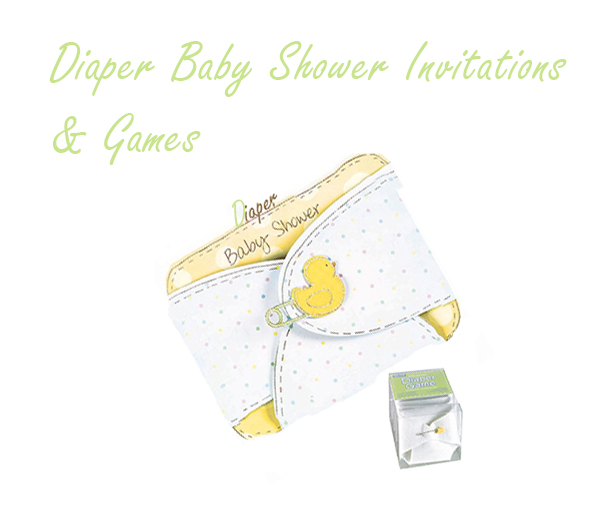 Go here to see more
A diaper baby shower is a great way to let a new mother know that she is not alone; help is on the way!
Diaper Baby Shower Invitations Ideas and Wording
You can make your own invitations using one of the free templates for diaper invitations
HERE
for your baby shower if you have plenty of time and happen to have some blank cards and supplies lying around. But there are cute (cheap!) ready made cards in the shapes of diapers including cute little pin stickers that you can buy for a very inexpensive price so don't put yourself under pressure to make homemade cards if you won't have fun making them.
We love our tiny babies
However often they tend to poop
It's hard for one mom to keep it covered
So, we're doing it as a group
WORDING EXAMPLE
You are invited to a diaper baby shower for (friend's name here). She's going to need a lot of diapers and wipes so we are asking our guests to help out with a few (insert size and name of diapers here).
Perhaps my favorite of all the diaper shower games is the poopy diaper baby shower game. Before the shower, purchase as many individual kinds of (easily melted) candy bars as she can find. Shortly before the shower, melt each one and dump it into its own diaper and then close it. The rules of the game are that each guest has to sniff the diaper and make a guess as to what kind of candy bar is inside. Be sure that one of the hostesses has a camera to snap pictures of the players while there are putting their noses in the diapers to make their guesses. The resulting pictures are hysterical!
MENU IDEAS
What other kind of cake would be one the menu at a diaper baby shower but a diaper cake? You can find free instructions for how to make a diaper cake for your shower on this site if you are a hostess who prefers to DIY. Your other option is to buy one ready made or get it custom made using the new baby's nursery theme for ideas.
As far as actual food suggestions for the menu, dips that look like deposits that might have been made in an actual diaper always get a laugh as long as they smell delicious, are accompanied by chips, sandwiches and punch or a beverage. If it's a diaper shower for men, having some imported on hand might be a good idea.
GIFT IDEAS
Sure, a diapers and wipes baby shower invitation means that a pack or a case (if you can afford it) of whatever kind of diapers the guest of honor plans to use is expected. But do you really want to just walk in and hand over a pack of Pampers when the hostess has gone to such lengths to entertain you?
I like to spice things up a bit by putting together a basket filled with a bib, a onesie or pajamas, some crib socks and a pacifier along with a travel case of wipes and a card with a funny little diaper shower poem as well as the expected pack of diapers. A little something unexpected is always appreciated and it will add a little excitement to the diaper shower games and activities.
Return to
Unique Baby Gear Ideas
to see more of our recommendations for cute baby shower themes.