Darling Christmas Baby Pajamas
by Mom Who Learned Early
Christmas baby pajamas are not only darling; they can make your holiday get-togethers with family less stressful. Here's a possible scenario; you've just given birth, it's baby's 1st Christmas and he or she is dressed to the nines in a fancy holiday outfit complete with a matching hair bow and booties. Although it's early in the festivities (the presents may not have been opened!) after being passed from one loving grandparent to the other, the newborn is getting very tired and with a warm bottle would probably go right off to sleep only the little one's clothes will have to removed and replaced with PJs. By the time the clothing swap has taken place; baby is wide awake! YIKES!


See More Here
I learned with my first girl that it was best to buy a cute footed baby sleeper decorated with Santa Claus or Rudolph the Red-Nosed Reindeer and save the dressy clothes for her Christmas portrait or shopping trips where I could enjoy the admiring looks of all who passed. Yeah..she was a beautiful baby.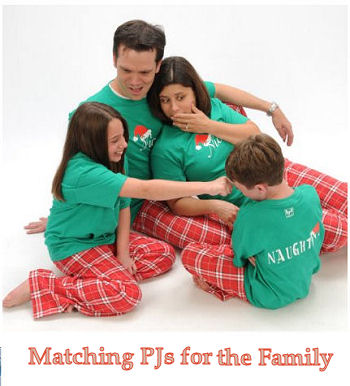 I learned this lesson so well that when I see matching Christmas pajamas for the family I think how nice it would be if we could
ALL
go to Grandmother's house already dressed for bed. Seriously, matching PJs would be really cute Christmas photo props.
You can pick up darling
Christmas baby pajamas
for $10 or
less
that will greatly eliminate some of the stress of the season and baby will still look precious in family photos.
How to Get More Wear
As I mentioned, there are some really cute PJs for newborns for less than $10 that have a Santa theme but if you would like for your newborn to wear them beyond the holidays shop for pajamas:
in a Polar bear theme
in red and green without holiday motifs
in red, green or navy blue plaid
in a snowman theme which is Christmas-y but appropriate throughout the cold winter months
Make Your Own Christmas Pajamas for a Baby
If you are a crafty mom with mad sewing skills, you can always make your own Christmas PJs from a free pattern like
this
or those of you that wouldn't know a sewing machine from a serger might like this tutorial for a no-sew Christmas onesie that will dress your little one up like the precious gift that she is complete with a big bow!
Check it out
.
Thanks for visiting Unique-Baby-Gear-Ideas.com and I hope that your baby's 1st Christmas, as well as all those that follow, is very, very merry and bright.