Dad's Pregnant Belly Painting for a Princess
by Jan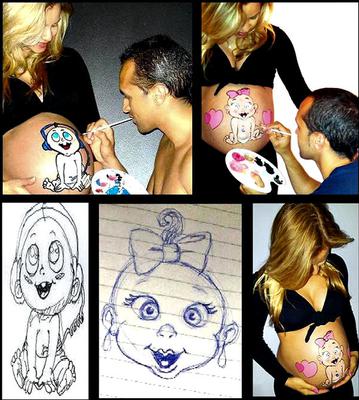 Darnial's Tiny Princess Belly Painting Done When His Wife, Conchita, was Approximately 35 Weeks Pregnant With Their Baby Girl
The style of this dad's pregnant belly painting for a princess may look familiar to those of you who drop by to check out the latest nursery ideas and maternity pictures on a regular basis. This is the second tummy painting that Darnial has shared with us! One of the things I love about this job is the number of parents and parents-to-be that continues to visit long after their pregnancy.




Go Here to See More
I posted some pics that a dad, Darnial, and his expectant wife, Conchita, shared with us a couple of years ago when they were expecting a baby boy. When I heard from this talented painter this morning, I remembered him and his beautiful wife immediately. What I had a problem with was that
two and a half years
had passed so quickly! Wow..where does the time go?
You can see the
pregnant belly painting
that he did for his son in the photo above along with the one that he has created for his baby girl. The one that he did for his son was a favorite with everyone and now we have a matched set both rendered in his inimitable style!
Darnial, Conchita and J.D will be welcoming their princess, named J.C., into the family at the end of January 2014.
Thanks for allowing visitors to
Unique Baby Nursery Ideas
to share in your happiness and congratulations on the upcoming birth of Princess J. C.