Blush Pink and Dark Green Baby Girl Nursery Ideas
by J
The blush pink and dark green baby girl nursery ideas are uniquely designed to showcase the centerpiece of the room; the floral wallpaper. The colors of the accent pieces are very subtle and relaxing. If pink was not prevalent throughout the space the theme might easily be classified as neutral rather than a baby girl nursery.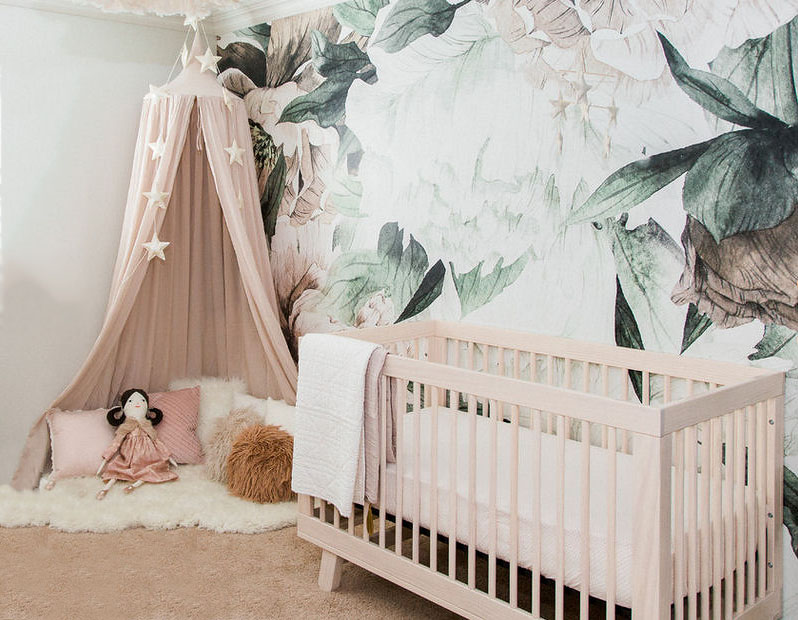 Shop the look
The furniture and decorations in the space accent rather than compete with the bold flowers on the wall.
The blush pink crib will be converted to a toddler bed when baby is older.
A teepee embellished with a garland of felted stars at the foot of the crib in the near future will provide a place for baby to play with her dolls. The fabric, in a shade that closely matches the color of the bed, adds a layer of softness to the room's design.
As you can see, the large floral wall display determines the style as well as the color scheme of the space.
This
pink and green nursery
pink and green nursery is a lesson in how to balance various aspects of decor. For example, the blush pink and mossy green found in the giant peony flowers to make a statement without the harshness that might have occurred should the decorator have chosen a rosy pink tone accented with an emerald green. In this decorating project the careful attention given to color temperature paid off in spades.
Please return to
Unique Baby Gear Ideas
to see more decorating ideas for blush pink and dark green baby girl nursery designs.