Blues Clues Nursery Decorating Ideas, Bedding and Decor
We have some tips for a Blues Clues nursery that will easily convert into a room for a toddler in a few years. You child will appreciate our decorating ideas (or CLUES, if you will) from the age of newborn until they register for kindergarten depending on the latest star of the children's cartoon network.

Assuming the Blues Clues show remains popular with kids, you may be able to start out with a set of Blues Clues nursery bedding in the crib and once your little one leaves the infant stage, keep the room decorations and make the transition to a toddler bed.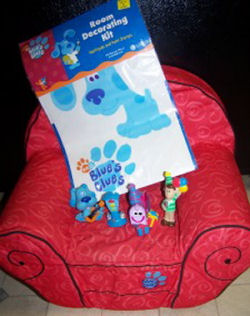 THINKING CHAIR and WALL MURAL STICKERS
SEE MORE HERE
Frugal parents, who were forward thinking enough to have chosen a convertible crib, can perform the amazing transformation in less than an hour. It can be accomplished with little more than a few tools, a new set of twin size Blues Clues bedding to replace the crib bedding and a larger mattress. Voila! The baby's Blues Clues nursery theme is now a room that will give at least a few more years of use before the next decorating trend.
But we are jumping ahead of ourselves. First we should focus on what we need to create a Blues Clues theme nursery for your newborn before we venture into bedroom decor suitable for a toddler.
BLUES CLUES BABY BEDDING, BLANKETS and QUILTS
As you have expressed a desire to include this cute, cartoon puppy as the foundation for your Blues Clues nursery decor, I have to assume that you are comfortable with a color scheme based on a rather unique shade of blue. The balance of color will depend on the fabric used to sew your chosen bedding set, blankets or quilt. A baby boy nursery with a Blues Clues theme might be a vision covered in royal blue with very small touches of white, yellow, green and red. Yet it's entirely possible to design a baby girl nursery using fabrics with very little blue other than the famous hound himself taking a backseat on a pastel pink background with a pink and white checkerboard print designs.
But for the most part, I consider a Blues Clues nursery to be unisex or a gender neutral nursery even if the puppy dog is baby blue.
BLUES CLUES ROOM DECORATIONS and DECOR
Feel free to splurge a little on your window treatments, rugs and decor because they will be around awhile. Long after you auction off the baby bedding set on EBay, the wall mural you designed using those cool Blues Clues stickers will be doing its part to add to your child's bedroom decor.
If extravagant items are not in your decorating budget, buy some Blues Clues fabric and make your own rod pocket curtains or for that matter, you can make your own bedding if you have the talent.
Other items that will come in handy (in small doses, please) when decorating your Blues Clues nursery theme are lamps, wall pegs and switch plates. The idea is to accent with your decorations not to cover the room from top to bottom with pictures of the famous puppy.
Return to Baby Nursery Decorating Ideas find more creative themes for your kids' rooms.