Black and Lime Green Nursery
by Allison H
(San Diego, CA)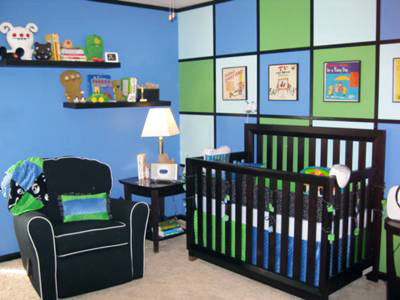 Hip to be Square Modern Blue, Lime Green and Black Baby Boy Nursery Design
The main feature in our baby's sky blue, royal blue, white, black and lime green nursery is the painted squares. The painted squares are the eye-catching feature yet they were the easiest DIY project ever!




We painted squares on the nursery walls because I wanted a bold, linear design that was visible to the baby.
I read that babies respond to distinct structured graphic patterns.






This fact seems to be accurate since our baby boy, Brixton, really seems to respond to the bright colors and pattern.
I wanted our baby's nursery to have this as soon as I read the article.
I chose our nursery color scheme based on the view outside of my bedroom window when I was pregnant. Here's how I achieved the wall painting technique that you see in the picture.
HOW TO PAINT SQUARES ON THE NURSERY WALL
I painted a square grid on the wall, and then applied the painted, black lattice pieces over the top to frame each individual square of color.
I mimicked the square shape in the art and on the ties of the white, blue, black and
lime green baby bedding
set that I made myself.
The nursery's closet doors were originally mirrored so to give them a makeover I flipped them around and adhered Masonite to the backs of the doors and spray painted the Masonite with blackboard paint which fits beautifully with the decor in our black and lime green nursery.
Visitors to the baby's room like to draw on them when they come to meet our baby boy, Brixton, and he'll be able to draw on them himself when he gets older.
From the webmaster:
Thanks so much for sharing your baby boy's nursery pictures with us, Allison!
I was wondering if you might be able to scan some swatches of the fabric you used in your baby's crib set and tell us the brand and the name of the wall paint that you used for each color if you have time? I know our visitors will be asking for these details so they can copy your nursery's design!
By sharing your photos with
Unique Baby Gear Ideas
, you have helped other DIY decorators to create visually stimulating nurseries for their babies!
Jan