Baby's Nursery is Ready for All 4 Seasons
by SummerRay
(Schaghticoke ny New York USA)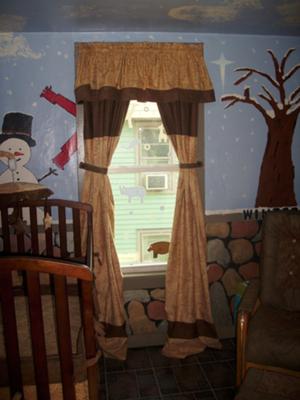 The snowman is just one of the 4 seasons depicted in our nursery wall painting.
As you can see from these pictures it is Christmas in our baby's nursery all year long! In the beginning our goal was to create a calm, and happy environment for our baby's 1st room.

My husband and I painted the nursery walls baby blue and then painted glowing stars (so that they would be shining as they would on my due date) and fluffy, white clouds.


Then we painted a rustic, rock wall around the perimeter of the room.


Then we painted each of the four walls in the room in a season, spring, summer, fall and winter.

After the wall was painted, we put in the flooring tiles and added a rug that looked like grass.

We chose nursery furniture to look like it was made from the surrounding forest and bedding in earthy colors to complement it.

Our nursery ideas based on creating an atmosphere of peace and tranquility came together perfectly and is everything we wanted it to be!

It was a lot of work but we are so happy with the results wanted to share our baby boy nursery pictures with everyone here on Unique Baby Gear Ideas.