Baby Monkeys in the Amazon Nursery Theme
by Unique Baby Gear Ideas
Who would like ideas for decorating with a baby monkeys in the Amazon nursery theme? Apparently, lots of moms expecting both baby boys and girls like the idea of spending time with their newborns in a jungle paradise if the number of requests for recommendations that have been swinging into my inbox is any indication.

So, here we go! Grab a vine and we will start to explore but before we start swinging there are a few questions to consider.

Will this be a monkey nursery for a baby boy, a monkey themed nursery for a girl or a neutral nursery that would work for either?


The latest in decorating trends lean toward a neutral color scheme with very little in the way of greenery found in their natural habitat as you will see.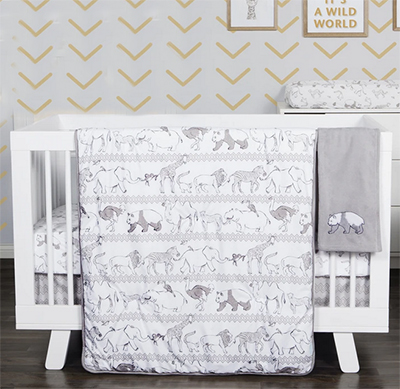 Go here to see
more gender neutral monkey themed nursery bedding sets and decor.
Grey is being jazzed up with the occasional bit of pink in rooms for girls or sunny yellow for a pop of color that is non-gender specific.
Monkey Nursery Wall Decor
The walls of monkey themed rooms of the past might have been a vision of lush greenery but today's wallpaper or artwork features fewer trees and restful designs.
To add a touch of realism, consider adding a variety of animals that live in the Amazon to keep the theme from being repetitive.
I hope that visitors to
Unique Baby Gear Ideas
will experiment with this new and updated way of decorating the baby's room with monkeys and consider uploading their photos to our gallery of designs to inspire other parents.