Baby Girl's "Tattoo Femme" Nursery
by Jessica
My husband and I invested many hours and lots of love into decorating and personalizing our baby girl's purple and black "tattoo femme" nursery to reflect our personality as a family as well as the décor in other areas of our home. The nursery was designed for our daughter, Rowan, who is also known as "baby bird", "baby doll" or "Ro".



This means "Baby Bird" and this nickname came about because mom and dad both have swallow tattoos, have a love for feathers (the theme of our wedding was feathers)as well as all things feathered (we both have swallow tattoos and even our wedding theme was feathers).




It was important to us for the style of her room to be "hers" and not some cookie-cutter design.
Go Here to See More
And "baby doll" because when in musical mode, we're "Dolls" Till Daylight here in my baby girl's
purple and black nursery
. Please, allow me to introduce myself before we move on to my nursery decorating ideas! My name is Jessica and I'm a wife, stay at home mom, a musician and I also blog over at www.keytomytart.com.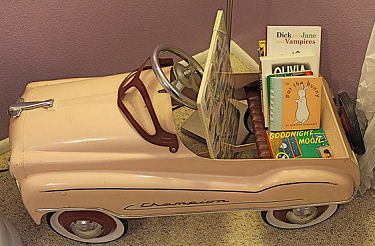 Decorative Items
In addition to the tattoo themed artwork and our
ideas for hand-painted nursery wall decorations
, we made the decision to take Rowan's sweet ride that my mom found in an antique store out of the closet and put it on display until she is old enough to "drive" it. As you can see, it makes a fabulous bookshelf and adds a touch of "vintage" to the decor.
My favorite part of our Baby Girl's Room
Besides the custom painted canvases with Rowan's name on them, the pom poms above the crib are one of my favorite parts of the room. They were one of the first items that I chose and it would be nice to say that they were homemade, but I didn't have the patience and ordered them from an Etsy shop. Even though I didn't make them myself, I spent time carefully "fluffing" them when they arrived.
Getting Started - Paint and More
The tissue paper pom poms were one of the few decorative touches in the space that we didn't approach with a DIY attitude. We did quite a bit of painting including the personalized name canvases for the wall that we painted with a friend's assistance.
The bottom of the baby's crib that we bought online from Wal-Mart was originally a natural wood color that we covered in grey paint that looked so much nicer with the shades of purple in the room.
And speaking of purple, the basic color scheme of our baby bird's little nest is purple, grey and white with touches of black but I brought additional colors as accents into the room via artwork and to incorporate more tattoo inspired aspects to the decor! I love that the skull prints are colorful, baby-like and cutesy!
We also painted shelves for the wall, the side table that we found at the Salvation Army thrift store that had a natural wood color finish and D repainted and converted the sleigh style changing table that we found for a very cheap price on Craigslist into a modern piece.
Floor Covering and Storage
We already owned the black and white rug with the bird pattern. It was included in the tattoo femme nursery theme's design in part due to our money saving efforts but mainly because the bird themed rug was absolutely perfect for the space in both color and style.
For additional storage, we bought some black canvas storage bins at Wal-Mart. We arranged them on the shelves and will use them to organize her clothes, shoes and other miscellaneous items.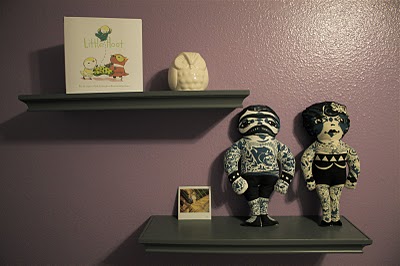 Feminine Touches
The window treatments add something feminine to this "cool" room. The ruffled curtains and curtain rod finials are very girly and one of the finer details in the room that I love. The curtain tie backs and ruffled curtain panels came from Urban Outfitters and the curtain rod finials are from Target.
I hope that you have enjoyed your tour of Rowan's room and can find a few tips here on
Unique Baby Gear Ideas
to use in your own decorating project. I'm sure that the nursery will continue to evolve and change throughout the year. Decorating her nursery is just too fun to let it come to an end. If you would like to see more, you are welcome to visit us over at Tart!