Sunny Baby Bedding in Yellow Toile for the Crib
Baby bedding in yellow toile fabrics add brightness and a touch of sunshine to any baby boy or girl's nursery. The fabrics are traditionally printed in just two colors with one color used for the design layered over a lighter color background or vice versa. But there are exceptions as you will see for example in the colorful nursery rhyme toile fabric.

There are several popular color schemes in toile that include yellow in the mix. There is blue and yellow toile that is bright yet calming, red and yellow perfect for country French decor and black and yellow often used in a baby girl's nursery but a possibility for a gender neutral nursery design as well.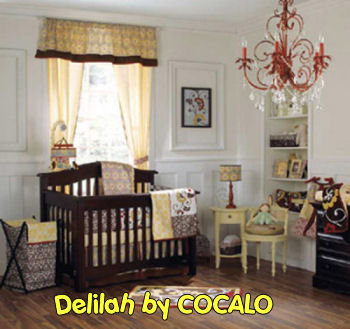 Go Here to See More
The most bold and dramatic of all would be the black and yellow color scheme. To keep things light and airy in the nursery baby bedding in yellow toile with the pattern in black would be the best choice.
A set of baby bedding in yellow toile is a perfect choice for a vintage nursery.


The appeal of a vintage nursery is often its softness. To give the baby bedding in yellow toile a less modern look, fabric with an antique white or cream background would be more suitable than a field of bright white that leaves no doubt that it's anything but brand new!

If you can't find a set of baby bedding in yellow toile in the store, you can always make your own or hire someone to make your crib set for you.


A nursery rhyme toile print fabric in yellow that features many popular storybook characters including Humpty Dumpty, the Cat and the Fiddle and the cow that jumped over the moon is a classic favorite that has a vintage feel without being old-fashioned.
And the fun starts when we add polka dots, stripes or gingham checks! In a baby boy or girl's toile nursery there are many coordinating patterns that will create a less formal, fun and lighthearted atmosphere full of fun!
Please make plans to visit Unique Baby Gear Ideas again soon to see the latest styles in baby bedding in yellow toile and baby nursery ideas.