Baby Bed and Bath Gifts Ideas for the Baby Shower Gift Basket
Baby bed and bath gifts are some of the most favorite items to tuck into a baby gift basket because new moms can never have enough really nice natural soaps and shampoos. You can personalize the supplies by coordinating them to the color or style of the baby's room. The nursery is usually decorated by the time the baby shower is planned so you might ask what her nursery's theme or color scheme happens to be.




GIFTS FOR BABY'S BATH
It's important to know what colors you need in order to decorate the gift basket and fill it with items in colors that coordinate with the baby's room.


In addition to soap and shampoo you might include bath mitts, towels and a few toys. Mom will enjoy wrapping her sweet-smelling infant in a soft towel after a nice, warm bath.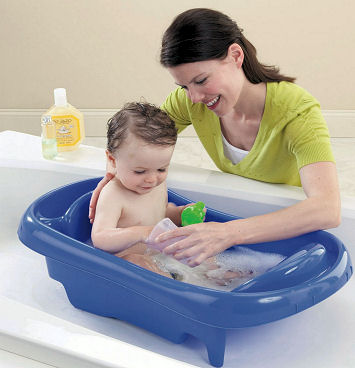 Go here to see
baby bath toys, towels and gifts for baby boys and girls.



CONSIDER NATURAL and ORGANIC

Natural and organic baby bath products that you make yourself are excellent gifts no matter what the baby shower theme might be. If you are a soap maker, you might want to Eco-friendly baby items are a very popular way to give a gift to honor baby's birth and save the planet all in the same package.
Here's a recipe for homemade, natural baby soap. I have not made it, and you should be careful that baby is not allergic to any of the ingredients. Just because the soap is made from natural stuff doesn't make it non-irritating or hypoallergenic. If you give homemade baby bath products as gifts remember to include a card listing all the contents of the homemade baby shampoo, lotion or soap for mom.
Extra Virgin Olive oil 1500g
Coconut oil 200g
Sweet almond oil 100g
Avocado oil 100g
Shea butter 100g
Silk fibers
Goat's milk 500mls
Lye 265g
If you make changes, you can run the recipe through a soap maker's calculator to be sure all is well and that you get a nice bar of homemade baby soap out of your recipe.
After a few days, you can package your natural soap in pretty cellophane, tie it up with ribbons and tuck it into the gift basket with your other baby bed and bath gifts! If you want, instead of a gift basket buy a baby bath tub and fill it to the brim with baby bed and bath gifts! Decorate the basket or baby bathtub with a few Mylar baby balloons tied to the handles with satin ribbons.
GIFTS TO DECORATE BABY'S NURSERY Decorative picture frames are a cool gift that works with most any nursery decor. Nickel, pewter or sterling silver baby frames are one of my favorite baby shower gifts. Engrave baby's name and birth date on any of your baby bed and bath gifts and rest assured that your present will receive a favorable response.
If the baby shower is scheduled close to a holiday you don't have to try to work around any nursery theme at all. For instance in early February, fill the baby gift basket with heart-shaped gift soaps and other Valentine's Day gifts for baby.
Baby bedding and bath gift ideas for Easter might include crocheted cross or other religious keepsakes for the baby's room. Bunny shaped soaps or baby bibs with the Easter Bunny are cute carrots appliquéd on them are great filler for baby gift baskets. If the nursery is in a bunny rabbit theme, the gifts will last long past the Easter holiday!
Unique Baby Gear Ideas has many articles with baby bed and bath gift recommendations as well as nursery ideas so feel free to browse our website and you just might find something really special.