Woodland Creatures Baby Shower Theme with Forest Animal Decorations
by JB
How many moms can say that they are lucky enough to have a sweet sister that can style a lovely woodland creatures baby shower theme as well as take professional pictures of the event?


Initially, I was conflicted as to how to describe the venue's decorations.

At first glance I thought that it would certainly qualify as a moose, deer or hunting theme but as I looked further I realized that it was much more. Keep reading and I believe that you'll agree.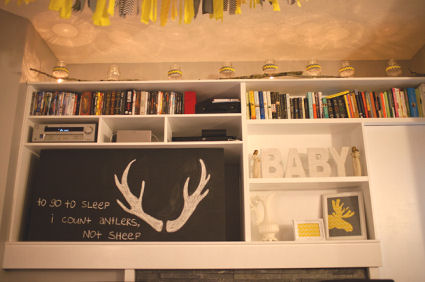 Go here to see more
.

The quote on the chalkboard gives us a hint that baby J might come home to an
enchanted forest animals baby nursery
. What an adorable saying for artwork in an outdoorsmen's child's room:
To Go to Sleep
I Count Antlers Not Sheep
Any dad who is into hunting and other activities associated with the great outdoors can appreciate that saying!
So..why didn't I narrow the focus rather than titling the article as a
woodland creatures baby shower theme
? Well, among other things there is the gorgeous baby shower cake that broadened my focus beyond forest animals with four feet, fur and antlers.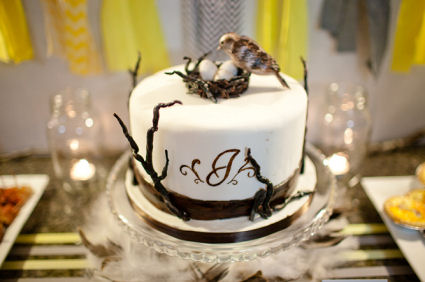 The mother bird of the cake topper appears to be keeping a watchful eye over her precious eggs; how could I not give a nod to the feathered critters featured in Vanessa's decorations?
The cake makes a striking centerpiece surrounded by an assortment of savory treats. A rustic garland on the wall behind the food coordinates with both the color and pattern of the party decorations. The combination of earth tones and bright shades of yellow and white are very appealing and represent the colors of nature at its best.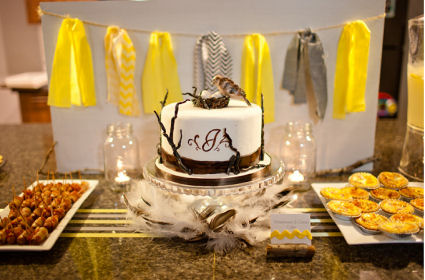 There were more sweets to be found at the Smores bar that was easily identified by the yellow and white banner creatively displayed on a tree branch. Talk about atmosphere; if work wasn't holding me back I would be heading for the woods to build a campfire right now!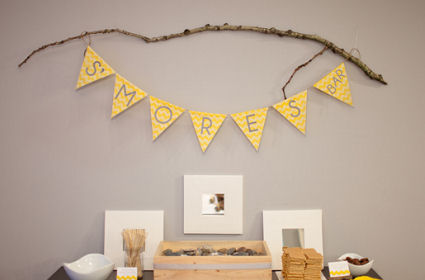 There are so many warm, natural touches to be found and yes..more yummy food which is a good thing since the outdoor-sy atmosphere probably gave the guests a healthy appetite.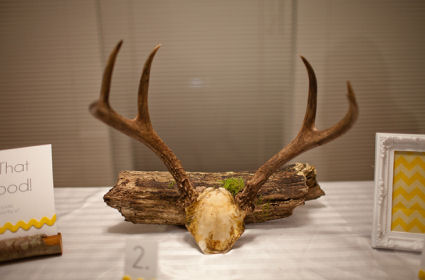 I wonder what was on the menu. Venison stew perhaps?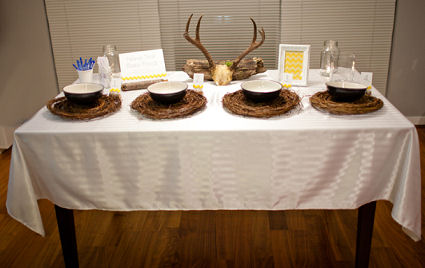 There are many more photos of the woodland animals baby shower that you will want to see (as well as the mom-to-be's maternity portraits) on Vanessa's blog that will give you some great ideas for menu selections and decorations for your own party.
I don't mind saying how completely envious I am of Vicky to have such a talented sibling as
photographer Vanessa Voth
.
When you stop by to take a look, don't forget to leave a comment for Vanessa telling her that you found her feature on
Unique Baby Gear Ideas
.