Welcome to The Jungle
by Shayna
(Havelock, NC, North Carolina USA)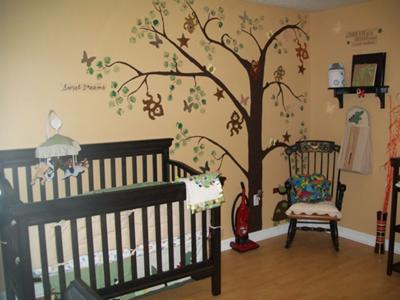 Our hand-painted tree wall mural with monkeys swinging through the branches surrounded by fluttering butterflies.
We would like to say, "Welcome to the jungle!"; our baby's jungle theme nursery, that is. Our wild jungle wonderland nursery theme came together after we decided we wanted to decorate a jungle theme for our first baby, a boy.


Q Monkeys, alligators (crocodiles?), butterflies and I'm sure I'm failing to mention a few of the wild animals that went into your cute nursery design; what was the starting point?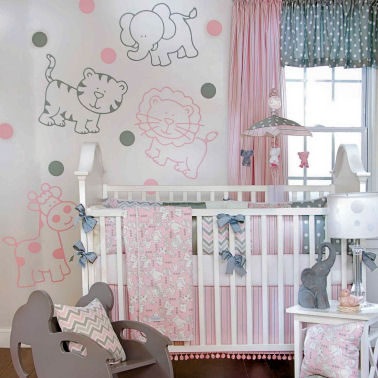 Go here to see more

A
We started out by choosing a neutral wall paint color and let our imagination run wild from there.
Q
I can see why a neutral backgound was necessary. Can you tell us about the jungle themed wall decorations?
A
There's everything from a hand-painted tree wall mural with monkeys and butterflies to wildlife tucked into every little peak and corner. And of course the friendly alligator makes an otherwise plain wall shelf something interesting and special.
Q
Your wall painting and decorating techniques are adorable and you did a great job of choosing the best bedding and accessories. Could you please share your shopping resources to save other moms who might want a similar "
welcome to the jungle nursery
" a little time?
A
The crib set is the Jungle baby bedding collection from Babies R' Us. We bought the crib, the green, brown and blue storage cubes and changing table from Target.
Q
Did you have a set budget or amount of money set aside to spend on decorating the jungle nursery?
A
We were working with a military budget and we proved that it isn't impossible to make a space wonderful on a small budget. We keept our expenses under control by searching for bargains and by making everything ourselves that we possibly could including all of the shelving.
From the webmaster:
Shayna, your baby boy's room is absolutely adorable! Thanks so much for sharing pictures of your work with
Unique Baby Gear Ideas
' visitors!