Shabby Chic Pink Zoo Baby Nursery Ideas
by Allie
(Lansing, MI)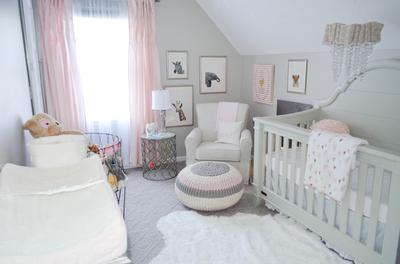 Shabby Chic Zoo Baby Nursery Ideas in Pink and Grey for a Girl
I began pinning shabby chic pink zoo baby nursery ideas last year. The board that I created featured a collection of styles. I realized very quickly my daughter's room was going to be one of the very "chic-est" zoo themes ever.


We refinished the china cabinet using a shabby chic painting technique. Her outfits, hanging on the wooden rod that we installed in the old china cabinet, are so pretty and complement the color scheme of the room. This piece of furniture has special meaning as it has been in my family for over a century. Another item included in the decor with meaning is the baby mobile. We used a wreath hanger that we dressed up with crystals saved from my husband's and my wedding decorations.
We designed a cozy reading nook decorated with floating book shelves.
I replaced the closet door with a sliding barn door.
We used an old wire hamper to organize and display her stuffed zoo animals, made a headband holder out of an oatmeal box, created a metal nightlight with her name embroidered, and made a height chart for her that we could take with us if we ever decided to move.
We dressed up her walls with custom animal photographs in gold picture frames and matted in a soft, blush pink.
Last but not least, the finishing touch in the space is an animal friendly ivory colored bear rug and new chandelier light fixtures. It is perfect for our soon-to-be little family.
If you have any questions about our baby girl's nursery, please send them using the form below provided by
Unique Baby Gear Ideas
.