Peter Rabbit, Popular Baby Boy Nursery Theme Favorite Has a Birthday
by AC
Beatrix Potter characters including Peter Rabbit, Flopsy and Jeremy Fisher have been the inspiration for nursery themes for baby boys, girls and both as long as I have been involved with this baby website, (going on 7 years YIKES!). Moms in the nesting phase of pregnancy, charmed by Beatrix Potter and Peter Rabbit often decorate a room for their infants that mimics the peaceful watercolor images enjoyed while reading their favorite storybook that their moms read to them when they were children.

These parents with their creative nursery decorating ideas keep this, one of the most popular baby boy nursery themes ever (especially in 2013), so fresh that it hardly seems possible that this year we will join millions of fans to celebrate Peter Rabbit's 110th birthday. I'm pretty sure we will see an increase in the number of requests for Peter Rabbit baby shower ideas as well as tips for nurseries decorated to commemorate the occasion.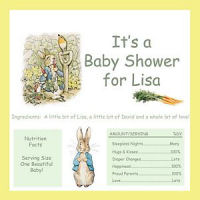 Invitations from these showers can be framed and used as art for the walls and baby gifts received at the shower can also be used as decorations.
Here's an idea; fill a basket with Beatrix Potter theme baby teethers and rattles and locate it near the changing table.
Baby will be enchanted and entertained by a squeaking, rattling Jeremy Fisher, Jemima Puddleduck and one of the all-time favorite Beatrix Potter characters, the birthday boy himself; Peter Rabbit.
Carefully placed items such as this provide a distraction for a baby too busy to keep still for a change and add to the nursery's decor.
And while we're on the subject of ideas for decorating a Peter Rabbit themed nursery, I would like to share one of our nursery reveals from a few months ago.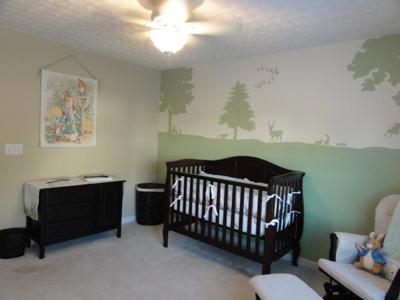 Peter Rabbit Baby Nursery
This picture was shared with visitors of
Unique Baby Gear Ideas
by a mommy-to-be turned DIY mural artist that did her very best to giver her baby boy's room a one-of-a-kind look by painting her own unique wall mural. Her artwork features silhouettes of many forest creatures including a family of bunnies. And this sweet mural artist has generously shared the image file with many other parents so that they could have the same art on their walls.
What better way to wish Peter Rabbit a very happy birthday than by passing the pleasure of his company along to our children?