Parts for a 1985 Simmons Crib
by Mary
Can someone tell me where to buy parts for a 1985 Simmons crib? My son and daughter-in-law are expecting our first grandchild in a week.


I would like to use the same Simmons baby crib that I used for my children, but the bed is missing one (1) stainless steel Spring Handle Hook - Tunnel Shaped.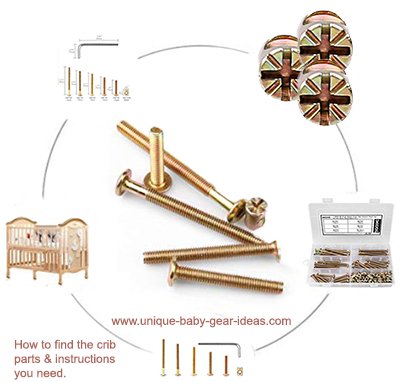 Go here to see
steel replacement parts that are available and for sale.
This hook is the one that attaches and holds the mattress spring to the bed.
Does anyone happen to one of these
parts for a Simmons crib manufactured in 1985
that I could purchase?
If anyone has a spring handle hook for sale, please contact me using the space below (and PLEASE include your contact information in case I need to get in touch with you!).
Unique Baby Gear Ideas
encourages our visitors to help Mary locate the stainless steel hook she needs to assemble her Simmons crib in time for her grandchild's arrival.