Mustache Bash Baby Shower Ideas
by Jan
We have some adorable Mustache Bash Baby Shower ideas to share with you today. The decorations for this event feature many party printables including the baby shower invitation that was designed by Jen of The Social Home.



Go Here to See More
As you can see Jen is a virtual wizard at designing party graphics.
The entry of the party featured some of her beautifully framed artwork. The sign invites the guests as they arrive to come on in and "Wet Their Whiskers"!
A pretty sign on the mantelpiece surrounded by gifts tucked inside Tiffany blue baby shower gift bags made friends feel right at home.

The array of tasty treats included a variety of savory snacks and beverages.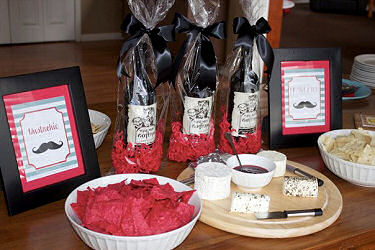 Here we see more examples of Jen's creativity that can later be used by the guest of honor in
decorating a nursery
for her baby boy.
Mustache themed party circles put the finishing touch on a tower of delicious cupcakes each sporting a frosted "stash".
The baby shower favors have charming tags with personalized wording including mustache graphics that serve as clever substitutes for words.
Thanks to Jen of
The Social Home
for sharing her mustache bash baby shower ideas with us. Please visit her
Etsy Store
to purchase the printables that are included in this feature article for your own
mustache baby shower
.
I really "must dash" but I hope that you enjoyed these
baby shower ideas
and that you will visit us again soon.