How to Style Maternity Dresses with Ruching

Our styling tips for maternity dresses with ruching will help our pregnant visitors make the most of ruched pieces that will flatter your baby bump as well as the rest of your body. There are many cute, short and long ruched maternity dresses for less than $25 which is an excellent price point according to an online debate as to whether a completely new wardrobe (when pregnancy only lasts nine months) is a good investment.

Many of the pregnant posters were of the opinion that buying maternity clothes at all was an unnecessary expense.
To be fair, it is indeed possible to manage without buying special clothing items labelled as maternity if otherwise petite ladies can be happy wearing baggy, plus-size outfits with no real style.
I am by no means trying to convince anyone to spend beyond their budget on long or short maternity dresses that may be worn a few times. The purpose of this article is to demonstrate why ruching may be a pregnant woman's best friend and to provide some styling tips and resources to those who are looking for a flattering, inexpensive dress to wear on a special occasion.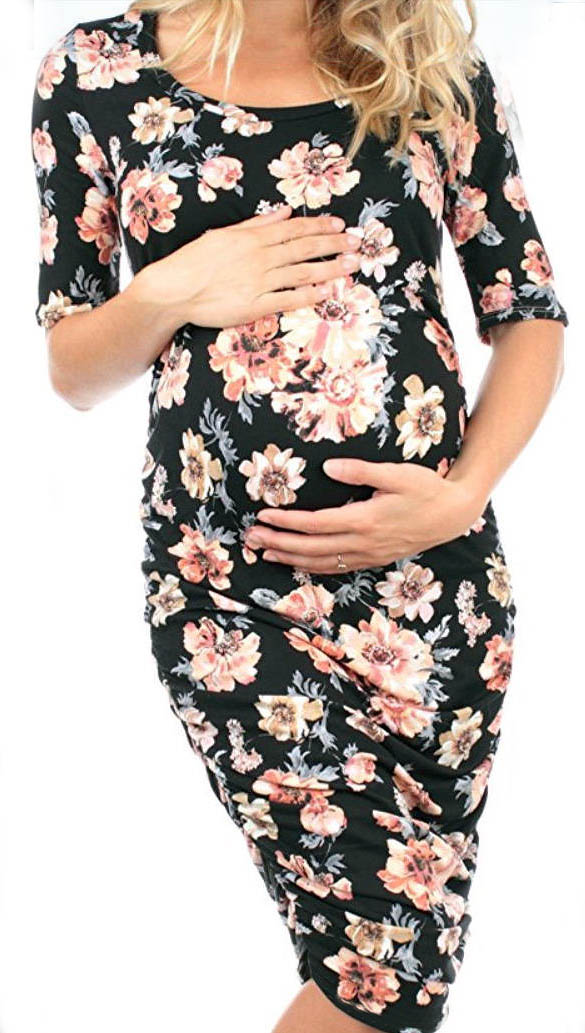 Go here to see the many ways to style this beautiful piece
that is perfect for fall and yes, costs less than $25!
Fabric
The ruched styling shows off a pregnant belly very nicely while the floral pattern serves to camouflage any flaws..not that we would ever have any. A flowing fabric will allow the gathers to perform their magic and will be soft and comfy, too.
Footwear
Your legs were a source of pre-pregnancy pride so there is every reason to show 'em off! The calf may be a tiny bit heavier (Cankles? Sigh.) but wearing a medium height heel will visually remove a little of the weight and showcase the shape of your legs sharing the illusion of an stunning hourglass figure.

Medium, flesh colored heels will elongate the leg adding height making Mom seem slimmer. Some feel that wearing heels during the third trimester may make Mom feel off-balance and present a health hazard. If this is the case, flesh colored flats will provide a similar, perhaps more comfortable, illusion.
Making the Case for Maternity Dresses with Ruching
There will be special occasions during third trimester when Mom will want to look her best for sprinkles and baby showers. A short maternity dress with ruching (gathers) will enhance the look of your tummy as well as other attractive features such as a girl's great legs via the slim skirt and attractive upper body as well.
Feel free to share pictures of your favorite maternity dresses with ruching on our feature page here on
Unique Baby Gear Ideas
as well as tips for must-haves in a pregnancy wardrobe.