Large Wooden Letters for the Nursery Wall
by Jan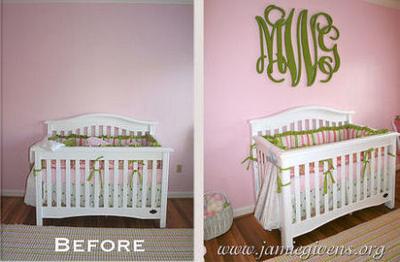 Beautifully designed large wooden wall letters in a baby girl's nursery designed by Murals & Things by Jamie
I get requests from our visitors all the time asking me "Where to buy large wooden letters for the nursery wall" and my usual answer is "your local craft store". Well, I'm changing my tune and the gorgeous, painted monograms designed by Jamie Givens of Murals & Things by Jamie are the reason. Seriously, look at the before and after picture of the already precious pink baby girl nursery in the photo above; need I say more?




Go Here to See More
Probably not, but I'm going to anyway...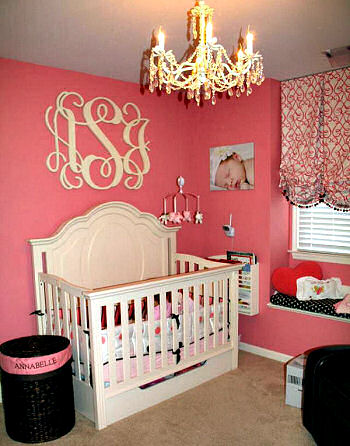 The circular shaped monogram over the baby's crib is a lovely complement to the elegant fabric pattern chosen for the nursery window treatments. The monogram can be painted and re-painted over and over to blend with the room's color scheme through many makeovers giving lots of return on investment.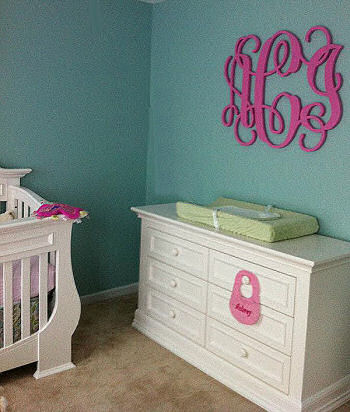 As you can see, Jamie's large wooden letters can be painted in any color you need and can be located anywhere in the nursery where there's a need for artwork.
The fonts and colors are limited only by your imagination and can be as feminine or, as you will see in the photo below, as masculine as your decor requires.
Wood Wall Letters for a Baby Boy Nursery
The dark, stained finish of this baby boy's initials is similar to that of his crib and Jamie even managed to work a football shape into the design. What a nice touch considering that the little fellow has a sports nursery theme and the initials are centered between those adorable framed prints featuring cuddly puppies and football helmets.
Large wooden wall letters are not Jamie's only claim to fame; this baseball nursery wall mural is an example of just one of her murals.
I know that you are dying to see more of Jamie's artwork and to see more photos of her creations decorating the walls of nurseries and other room so I'm tickled pink to tell you that I will be featuring her work right here on
Unique Baby Gear Ideas
! Write down the details of the nursery you like so that you will remember exactly what to ask her to design for you when you visit her website,
Murals & Things by Jamie
. And don't forget to tell her that you saw her products and artwork on Unique Baby Gear Ideas!