LAMBS & IVY Jungle Luv Baby Nursery Bedding and Nursery Decorations
The Lambs & Ivy Jungle Luv baby nursery bedding collection has proven to be very popular with moms who find the idea of a jungle room theme appealing but would like the design to be more feminine than most jungle nursery designs that focus on a gender neutral bedding collection. The Jungle Luv collection has just the right amount of pink so that it's girly. But not so much so that the wild animals look out of place; just not as realistic as other safari style crib sets.
The Jungle Luv baby nursery bedding collection is constructed of floral fabrics shades of light pink with bright pink accents that provides the perfect background for a layout of frivolous, fanciful jungle animals. There are zebras whose traditional black and white stripes have been replaced with a color scheme of lavender, pink and white, lavender giraffes covered with yellow polka dots dancing on a bed of hot pink flowers and green gingham elephants. All of which are appliqued on the crib quilt as well as the matching tab top window valance.
Perhaps what makes the bedding collection so special is the decorative accessories that can be used to decorate a Lambs & Ivy Jungle Luv baby nursery room theme to perfection. In addition to the Jungle Luv bedding collection there is matching wall art to use in decorating nursery walls, a Jungle Luv rug for the floor and any number of decorations that do double duty as essential supplies and equipment like diaper stackers and light fixtures.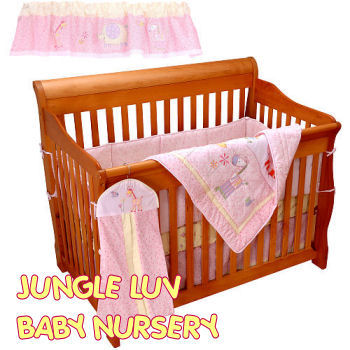 Go here to see more
decorations in the Jungle Luv collection.

A Lambs and Ivy Jungle Luv room theme is an excellent choice for a nursery for girls in a color scheme of pink, yellow and lavender. The small amount of green gingham is not enough to make the set gender neutral as the shades of pink are dominant. And the only touch of blue of any size are on the appliquéd flowers so this is not the best set of jungle bedding for a baby boy. But the Lambs & Ivy Jungle Luv baby nursery bedding collection is a unique and interesting mix of color and design that may be one of the best jungle animal theme bedding sets for girls that is for sale at the moment.
Return to Unique Baby Gear Ideas to see more ideas for creative rooms for infants.