Golf Greens and Sweet Dreams Nursery
by Amanda
(Richmond, VA)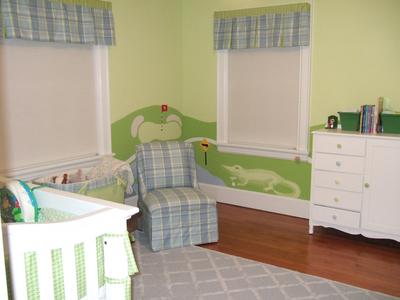 Our Baby Boy's Golf Theme Nursery. The color scheme is baby blue and leaf green. The baby bedding set is made using blue and green houndstooth fabric fabric that coordinates beautifully with the plaid fabric that I used for the window valances and chair upholstery.
We call our baby boy's nursery theme "Golf Greens and Sweet Dreams Nursery". In addition to the blue and green plaid fabrics that I used for the room's window valances and chair upholstery. We used the layout of our favorite golf course and a painting of a friendly alligator (rumored to hang out around the water hazard) as part of the wall decor.



When I found out I was having a baby boy I set out to design a room that would be suitable for both an infant as well as an older child in school.
Go Here to See More
I quickly learned that I wasn't interested in any of the traditional themes for a baby boy's nursery. Dump trucks, planes, choo choo trains and football are just not my decorating style.
And then I realized that the perfect nursery theme was right there in front of me all along..GOLF! My husband is an avid golfer and I knew he would give his wholehearted approval to my idea for a golf themed nursery.
Narrowing down the golf nursery color scheme was more of a challenge than I had imagined because there are so many vibrant colors in the game of golf. Each course is a riot of green, bright red flags, blue water hazards etc. but I decided to focus on baby blue and a bright, leaf green.
After selecting two suitable fabrics for the window treatments in the chair upholstery, a preppy hound's-tooth and a modern plaid, I pulled three colors from the fabrics and used them as the primary colors in the room (two shades of green one shade of blue).
The main colors are repeated in a mural of a golf course that wraps around the room (that I painted during my second trimester), hand painted drawer pulls, window treatments, upholstery, linens (hand sewn), an area rug (pottery barn kids), and a variety of accessories. Our
baby boy's nursery theme
is a bright and peaceful room that is unlike any nursery I have ever seen and I thank
Unique Baby Gear Ideas
very much for giving us the confidence to design a room that reflects our favorite colors and hobby.