FREE Heirloom Wooden Toys for Children Giveaway
by Jan
Before I jump into the details of the FREE Heirloom Wooden Toys for Children Giveaway and Review I want to share the reasons that I believe long-lasting toys are such a blessing.
When I was a child I considered myself to be one of the luckiest kids on earth because my granddaddy was a woodworking fanatic that was always making me toys that made me the envy of my friends. I had wooden carriages for my baby dolls, an amazing wooden kitchenette and so many toy cars and trucks that you would have thought I was a boy!
My mom kept all of these toys when I outgrew them and when my girls came along she dug in the attic to present them to my girls. Those treasured toys hold so many memories that are now being passed along to a new generation. Not every child has a woodworker in the family and that's where Heirloom Wooden Toys.com steps in to save the day.
They are a valuable resource for toys and games that kids love and with any kind of care; they will last forever! The wooden toys are made from high quality wood and are sure to be a favorite. Their toys are natural, creative and inspire children to play the old-fashioned way; using their imagination! Video games and electronics are entertaining but they do not inspire children to use their minds the way these toys do.
For the Heirloom Wooden Toys for Children Giveaway I was sent an award winning wooden game for two players called Gobblet Gobblers. The colorful game is played kind of like Tic-Tac-Toe only more fun. What I liked about this game is that it tests the players' memory and requires them to work out a strategy to win. It is easy to play and unlike other games that take so long to play that the kids get bored, a round of Gobblet Gobblers consists of a couple of minutes of fast-paced fun!
The object of the game (ala Tic-Tac-Toe) is to make moves that will line up three of the monsters in a row diagonally, horizontally or vertically on the playing grid. Each player has 6 orange or blue wooden monsters of varying sizes which are either placed in position in a space in the grid OR (this is where the fun comes in) the player has the option of gobbling up his opponents monster by covering his piece with his own. You should hear the sound effects that my girls make when a piece gets gobbled! Hilarious!
I can tell this game is going to be a favorite with the kids and as a parent, I am pleased with the quality of Gobblet Gobblers game especially since it is so inexpensive! What a rare thing it is to find such an entertaining, educational game for only $17.99!
Right now, woodenheirloomtoys.com offers free shipping for orders of over $99 which is all the more reason to do your Christmas shopping at Heirloom Wooden Toys.com.
You are sure to find something special for both girls and boys at Heirloom Wooden Toys from doll furniture to quality musical instruments for kids and much, much more all at very affordable prices. And taking into consideration that all of the classic toys for children at Heirloom Wooden Toys.com have the potential to last for a lifetime and beyond; they are really a bargain!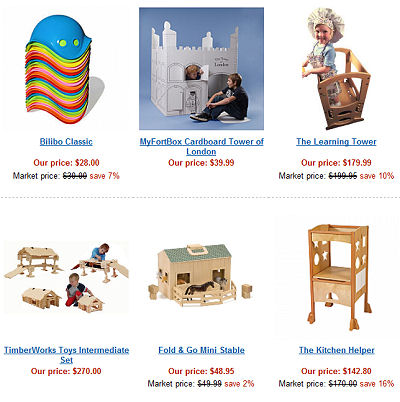 The Heirloom Wooden Toys for Children Giveaway
One of the lucky visitors of Unique Baby Gear Ideas will receive a $50 gift certificate for use at Heirloom Wooden Toys.com!
As your
MANDATORY ENTRY
you must LIKE Heirloom Wooden Toys on Facebook AND
LIKE
Unique Baby Nursery Decorating Ideas on Facebook.
Bonus Entries:
1.
FOLLOW
Heirloom Wooden Toys on Twitter
2. Follow msbaby on Twitter and tweet: Check out the Heirloom Wooden Toys for Children giveaway contest hosted by @msbaby – Enter to win here: https://www.unique-baby-gear-ideas.com/free-baby-stuff.html shorten url and leave a comment. Tweet DAILY and leave a comment each time.
3. Visit our baby gear reviews channel on Youtube and subscribe for
10 bonus entries
4.
5 ENTRIES
– Blog about the Heirloom Wooden Toys for Children Giveaway linking to this page for 5 entries.
5.
10 ENTRIES
Vote for your favorite of our nursery pictures entered in our BABY NURSERY PHOTO CONTEST then tell me where to find your vote for 10 entries. Please tell the moms which of their
baby nursery ideas
you like best.
6. Add Unique Baby Nursery Ideas' button on your sidebar (if it's already there, tell me but don't put it on a page where nobody will see it and post the link to your blog for 2 entries using this code:
https://www.unique-baby-gear-ideas.com/images/ubgibutton.jpg
7. Post a link to my baby blog (using my URL), with a link back to my website for
(10 bonus entries)
.
8. Post a link to Baby Shower Decorations blog on your sidebar or your resource page (using the provided URL), with a link back to me for
10 entries
9. Become a GFC follower of Baby Shower Decorations and post your user name for verification for 5 entries.
The Heirloom Wooden Toys for Children Giveaway has closed.
The winner of the Heirloom Wooden Toys for Children gift card will be contacted via email and will have 48 hours to confirm before a new winner is chosen.
Thanks to Heirloom Wooden Toys for their sponsorship and for the wooden Gobblet Gobblers game that they sent me to review!
There is No Purchase Necessary to enter to win the Heirloom Wooden Toys giveaway contest or any of the other freebies I have posted. I received no compensation other than a game for the purpose of my review and my opinions, as always, are my own.