DR. SEUSS WALL STICKERS
by Elaine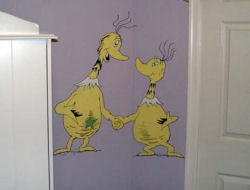 Dr. Seuss baby nursery wall stickers. Bright Yellow removable vinyl decals that will make you smile!
I need a resource for Dr. Seuss wall stickers in pastel colors. I have always wanted a Dr. Seuss nursery theme for my baby but when we got the news that we were having a baby girl, I kind of gave up on that idea because I don't care for primary colors in a girl's nursery. Can anyone please help?


From the Webmaster

Cat in the Hat
Dr. Seuss nursery themes
are great but I can appreciate that you are looking for something a little different, especially since you want a room that is more feminine for a baby girl. Lavender and yellow is a favorite color scheme of mine so the design you are considering is very appealing to me but I'm sorry to say that I could not find these exact
Dr. Seuss wall stickers
.
The Lorax Truffula Tree stickers include the pastel colors yellow, pink and orange that would all work on your lavender walls and the Hop on Pop stickers are yellow with little else.
If you would rather not to vary the colors in your Seuss wall decorations you might consider Hop on Pop decals combined with one of your favorite quotes in yellow vinyl wall letters.