Dr Seuss Nursery Decorating Ideas
by Heather
(Davie, FL, US)
My Dr Seuss nursery decorating ideas were used for a shared room that I recently decorated. The shared bedroom was a necessity as I just had a baby boy and I have a daughter who is almost 2.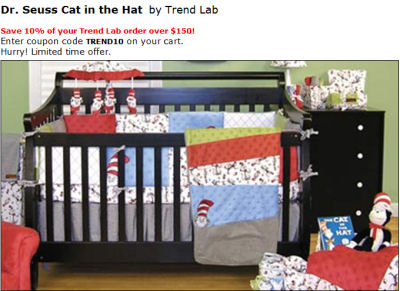 Go Here to See More







They needed to share a space, so I had to choose a nursery theme for their shared room that would work for both of them.


Our family had recently visited Universal Studio's Islands of Adventure where they have a whole section dedicated to Dr. Seuss. My husband loves color so we were inspired by the bright colors and designs that we saw there and decided that we just had to decorate in one of the Dr Seuss nursery themes like Cat in the Hat or Horton Hears a Who.

We bought many of the main pieces from IKEA, including a red toddler bed decorated with yellow and orange cats and a plain wooden baby bed. We purchased both crib and toddler bedding sets that had a broad range of colors and animals and got matching stuffed blue and pink plush toy animals with striped legs.

We got a crib mobile with upside down fish that look like the ones from the One Fish,Two Fish, Red Fish, Blue Fish Dr. Seuss book. But we actually got Dr Seuss nursery decorating ideas from characters found in more than one of his books.

We bought a toy chest with steps that looks a lot like a staircase that disguise colorful bins for the kids' toys. We bright blue and red dressers with large drawer pulls that are very Seuss-like in design.

To decorate the walls of the shared nursery, we bought some homemade Cat and the Hat wall decorations, switchplates, and outlet covers from Ebay. We bought these L/V shaped shelves where we display Dr. Seuss theme trinkets including a vintage style Cat in the Hat alarm clock.

Once we got started, we even decorated the ceiling with some unique Dr. Seuss nursery decorations including stuffed animals and a hot air balloon wall decoration that we hung from the ceiling and surrounded it with Dr. Seuss wall decals with our favorite quote which is "Oh The Places We'll Go".

We also bought Seuss wall stickers arranging various Seuss storybook characters and custom vinyl letters spelling out another popular Seuss quote "A person's a person no matter how small", that we bought on Ebay.

I'm sorry I can't post any pictures of the room at the moment. You will have to wait until later to see actual photos of our Dr. Seuss baby nursery ideas because right now my babies are sleeping in their shared bedroom where Dr. Seuss Has Run Loose and it would be shame to wake them!
Join in and write your own page! It's easy to do. How? Simply click here to return to DR. SEUSS WALL IDEAS for the NURSERY .