Carnival at the Baby's Animal Sanctuary Nursery
by Carrie
(Lexington, KY)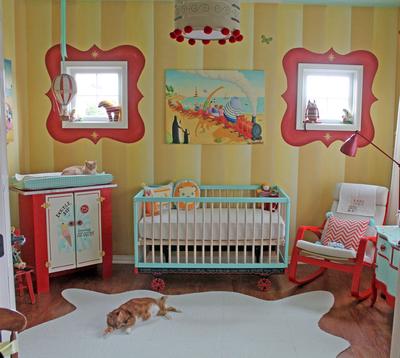 Full Shot of Nursery
My husband and I are HUGE animal lovers, so I knew that our baby on the way's nursery MUST revolve around animals...very happy, colorful, whimsical animals! We needed a gender neutral nursery since we are holding out for the world's greatest surprise!



So, I chose a vintage inspired red, golden yellow and an aqua blue for the color scheme. It was also a top priority that the nursery be very eco-friendly with a focus on handmade and recycled items. Decorating this room was truly a labor of love!


To start, a very talented friend of mine painted the stripes on the walls, the frames around the windows and the sky mural on the ceiling. I added the details. There are stars, butterflies, a plane, a kite, a sun, etc. all painted with VOC free Mythic Paints. I also painted the ceiling medallion to give it a circus-y feel.

Our next project was the changing table. I refurbished a primitive kitchen cabinet found at a local flea market and painted it to look like a retro ice cream cart inspired by the Alison Jay giclee painting hanging above it.

I also redid the hot air balloon hanging above the changing table. I repainted a "balloon" that my friend had crafted, added the basket and a clay rabbit passenger that I made. Then I tacked on fishing net to add an antique touch.

I found a $45 dresser at Goodwill and repainted it to coordinate with the color scheme to use as storage for blankets and burp cloths. It is topped with fun little vintage accessories. There are glass jars filled with wooden blocks and fishing lures and a sale lamp from Hobby Lobby that I repainted.

The window treatments are simple Ikea curtains and sheers adorned with kitschy flea market owls that I repainted that are "holding" a fabric bunting banner that I found on Etsy.

I ordered an unfinished Kalon Caravan Crib (made with sustainable wood) and painted it myself. My wonderful mom made the pillows and crib skirt.

The ceiling pendant light was a basic Lowe's linen pendant that I painted with scrolls and added handmade red pom poms to the edges.

The nursery rocker is an Ikea Poang rocking chair that I painted. And again, my awesome mom made the chevron cover for the ottoman and I added the wooden blue legs.

I created the faux polar bear rug using FLOR squares (made from 100% recycled materials) by cutting the edges.

My last favorite item is a colorful 1970s locker unit that I rescued several years ago from a loading dock. It was headed to the dumpster but now it is the perfect solution for storing baby clothes and supplies.

I hope that you have enjoyed your visit to the carnival at the baby's animal sanctuary nursery and that you will vote for my nursery pictures to win Unique Baby Gear Ideas' baby photo contest.