Bright and Colorful Cat in the Hat Nursery
by Kristina
(Covina, California, USA)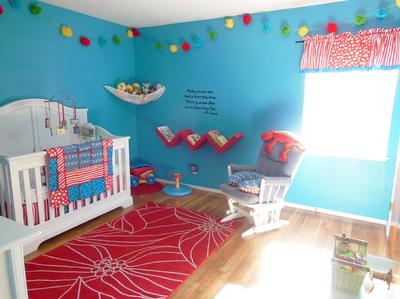 Our baby boy's bright and colorful Cat in the Hat Nursery decor.
We came up with the idea for Sebastian's bright and colorful Cat in the Hat nursery theme's color scheme first. My favorite color is turquoise, while my other halve's favorite is red. The two colors reminded me of some Dr. Seuss fabric I had see and the concept for the room's decor was born!

A lot of the items in the nursery are handmade. Big items such as the Dr Seuss baby quilt (which I was finishing up while in labor!), the nursery window valance and crib skirt were sewn by me.

I also made the baby mobile which hangs from the ceiling on a clear piece of fishing line so that I can raise its height as my son gets older. Hint* I used an embroidery hoop for the base and painted it with left-over paint from the walls!!

We hung yarn puffs strung together around the perimeter of the walls near the ceiling to create a colorful garland that broke up the turquoise and red. I also tied the combination into the button decorated lamp shade that I made one night when I couldn't sleep.

Some smaller details include the hand painted dresser drawer knobs and boppy pillow cover. I also painted three wooden peg stars and covered the fronts with the same Dr Seuss fabrics used in the rest of the room. I hung them on the wall near the laundry area so they would be conveniently located where I could easily hang a wet-bag and a towel to dry.

I am not 100% finished. I have new baby nursery ideas that pop into my head by the minute. ;-)
There is one bare wall right now as I wait for Sebastian's newborn photos to arrive. I will be creating a photo collage on this area of the nursery wall featuring various sized canvas prints and some hand painted frames with photos inside.

More ideas that I will be incorporating when baby allows me some time are to make a few throw pillows, paint the light switch cover, fill some shadow boxes with a few of his Dr. Seuss photo props used in the newborn session and design some star shaped place mats for the dresser top to save the wood.

I hope you all enjoy the Sebastian's bright and color Cat in the Hat nursery as much as we do!