Baby Boy Sports Nursery Theme Decorated in Burberry Plaid
by Jan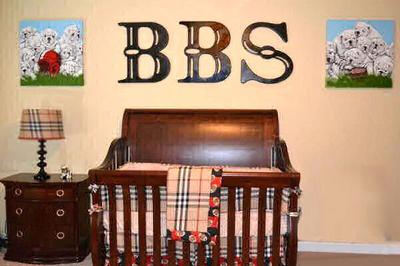 Football sports theme nursery for a baby boy with a Burberry plaid crib bedding set and wooden wall letters by Murals & Things by Jamie
I can only imagine how this baby boy sports nursery theme decorated in Burberry plaid or Burberry "like" plaid put a smile on Dad's face. Since I wasn't in on decorating the room, I can't say if the fabric is authentic or similar but I DO know that the crib bedding alone is just too cute!



I love the combination of the artwork and the wooden wall letters with an "oh-so-subtle" football theme is beyond adorable!




Parents who like this nursery might ask, "Where can I find a Burberry crib bedding set to match my
Burberry diaper bag
?" After checking a few resources and coming up empty handed, here are my suggestions.
If you're not totally obsessed with designer labels, you might also consider buying a similar plaid flannel fabric that is very close to the real deal with the same colors and style.
Or you might pay a visit to your local thrift store to see if they happen to have an used designer trench coat for sale on the rack that has plaid lining in good condition (the bigger the size the more fabric you get) remove it and use it:
as a border for a crib quilt
to decorate a lamp shade
make throw pillows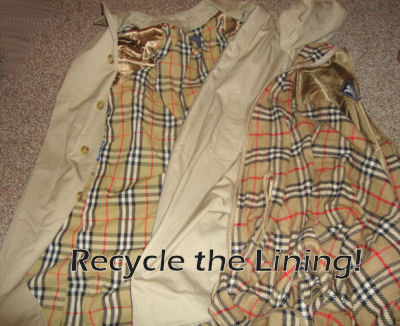 Those are some great ways to make the limited yardage go further.
Large Sports Theme Wooden Nursery Wall Letters
And since it's a
sports nursery theme
, you will need to find some black, red, camel and white football print fabric to use for the window treatments or to add interest to the
baby bedding
set.
The next step would be to order wooden wall letters with the cute football cutouts to either spell your son's name or if he has a really long name; you can just order his initials.
Center the letters on the wall behind the crib and if there is room left on each side you might consider adding some art prints or sports themed family photos. Shelves where dad can display trophies he won in his glory days would be nice, too.
Unique Baby Gear Ideas
would like to thank Jamie of Murals & Things by Jamie for allowing us to add this picture to the rest of the
baby boy nurseries
in our photo gallery.