Alphabet Nursery Decor
by Lisa
(Houston, Texas)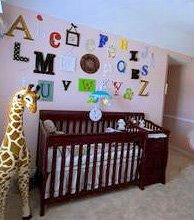 ABC Alphabet Baby Nursery Wall Arrangement for an Baby's Alphabet Theme Room
The focal point of the baby's alphabet nursery décor consists of an extensive collection of wooden letters that I started collecting ABC's of all shapes and sizes shopping at garage sales, antique shops and anywhere else I thought I might find letters and ABC themed decorations in unique and unusual forms.


Late at night when you're in the hours that I couldn't sleep, I'd spend time in my arts and crafts room being creative and coming up with interesting patterns and ideas for the letters.



How to Make Your Own Baby Alphabet Nursery Decor - Craft Ideas and DIY Projects
The ABC nursery ceiling fan is the "high point" of our alphabet nursery decor. This crafts project was the result of another late night, creative burst of energy.
I simply could not finding any cute,
nursery ceiling fans
that were affordable and fit my idea of "cute".
Creative Ideas for Displaying Your Baby's Name or Initials Using Nursery Wall Letters
I bought little wooden figures at my local craft shop in the best colors for my vision of the room and permanently attached them to the ceiling fan's blades using mod podge. I basically created a cute, bright way to circulate fresh air in our baby's room.
We found the lime green nursery glider for sale on craigslist for $75. After we bought it, we sanded it, repainted it and found some bright cushions from a combination garden center, pottery mall. Shopping there turned out to be a very affordable way to find cushions for our second hand glider. I removed fabric from a pillow that matched the replacement cushion set to upholster the foot stool using stitch witchery to close the seam.
The clothesline was an idea that I borrowed from a friend of mine. Our baby is going to be a big girl so soon and I know we will not be able to enjoy her little dresses for very long before she outgrows them. This way, we can switch out her dresses on the clothesline so we can enjoy them for as long as we'd like.
My husband made her dresser with the hutch and we decided that stuffed animals were a sweet way to add warmth to our baby girl's alphabet nursery decor.
We love how her nursery turned out and wanted to share all of our hard work.
From the webmaster:
I love your ideas and your hard work certainly paid off! The clothesline is such a clever way to enjoy your little one's outfits. I'm sure that
Unique Baby Gear Ideas
' visitors are going to want to copy your wall arrangement, I'm sure! This is a perfect nursery that will inspire moms who don't want a "matchy matchy" look!
Thanks so much for sharing your ABC
nursery pictures
with us! I've never seen an eductational theme that was so much fun!